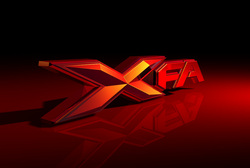 Las Vegas, Nevada (PRWEB) March 14, 2008
The Xtreme Fighting Association TM (XFA) announced their March 22 Fight Card at the Las Vegas Hilton. Tickets are now on sale and Live Webcast will be broadcast worldwide.
The Xtreme Fighting Association TM (XFA) is a Professional Full Contact Stand-Up Fighting Organization. It's stand-up, knock em' down, or knock em' out fighting, where only the best men and women are left standing!
The fight card, subject to approval by the Nevada State Athletic commission, for the XFA March 22, 2008 event at the Las Vegas Hilton, and on iPPV Worldwide Live Webcast at 6:45 p.m. PST:

Main Event: Mike Whitehead vs. Ethen Cox
Featured Event: Michelle Waterson vs. Catia Vitoria
Dan Evensen vs. Bryan Humes
Michael Corleone vs. James Cook
Shawn Yarborough vs. Alain Silvestre
James Martinez vs. Mark Holst
Amy Davis vs. Van Do
Mike Seal vs. London Pray
Ray Cole vs. Marcy Menchaca
The main event will feature two very experienced and exciting heavyweight warriors. Mike Whitehead is a well known MMA fighter and veteran of the Ultimate Fighter show. He has a 20-5-0 record and is on a 11 fight winning streak. He'll be stepping into a new arena, in a boxing ring instead of a cage, with stand up fighting only and no grappling or ground work. He'll be facing Ethen Cox an experienced and savvy Muay Thai Kick Boxer. They are both heavy handed strikers, so fans are in for a slugfest!
In total there will be 9 exciting toe-to-toe bouts, including 2 female fights. Tickets are on sale now, and are only $30, $50, $70 and $90. Call (1877) 725-8849, or order online at: http://www.TicketAlternative.com Or, for Live Webcast go to: http://www.ItsFightNight.com
About The Xtreme Fighting Association (XFA)
Reis Sports Entertainment, LLC (RSE) is a Professional Martial Arts Promoter licensed by the Nevada State Athletic Commission. RSE created the sports brand, the Xtreme Fighting Association TM (XFA) which will be holding a series of events in Las Vegas, Nevada. For more information: http://www.XFAlive.com
# # #