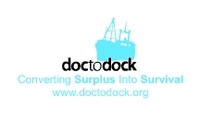 New York, NY (Vocus) March 14, 2008
Doc to Dock, a 501(c)(3) charity, is announcing a new collaboration with The Greater New York Hospital Association and its nearly 300 member hospitals to re-direct the flow of unused (and/ or re-usable) medical supplies that would otherwise go directly to landfill. It is estimated that in the United States over 7,000 tons of medical supplies are discarded every day due to overproduction, procedural excess and regulatory requirements. At the same time a continent away, thousands of men, women and children are turned away from hospitals and medical clinics due to a lack of these same supplies. Doc to Dock's mission is to correct this imbalance.
Doc to Dock collects medical supplies from hospitals in the United States, sorts them in warehouses and ships them in 40ft containers to developing countries overseas. Doc to Dock collects both disposable, sterile supplies in recycling bins outside operating rooms as well as capital equipment at times of hospital renovation or equipment upgrade. In the past year working with the Greater New York Hospital Association, Doc to Dock expects to develop the largest hospital donor network ever seen.
Doc to Dock has sent four containers of medical supplies (over eight tons total) to date to hospitals in Benin, Ghana, Ethiopia, and Kenya, and anticipates continuing to send supplies to these countries as well as to Senegal, Burundi and Liberia over the course of the next year. Each shipping container has an approximate cargo value of $400,000 worth of vitally needed medical supplies.
###