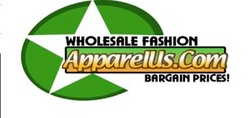 Los Angeles, CA (PRWEB) March 14, 2008
ApparelUS.com, the wholesale clothing supplier that requires no membership or minimum purchase, is now offering a double deal: free U.S. shipping and a 5% discount. Customers in the contiguous 48 states will receive free shipping on orders over $250, and anyone anywhere can take advantage of a 5% discount on orders over $2,000. Clothing at wholesale prices includes women's and men's garments, women's plus-size apparel, shoes, accessories, and juniors discount clothing. The new Double Deal, on top of an inventory of over 2,500 items, same-day and international shipping, and no credit check, makes business and individual purchases easy and cost-effective.
This wholesale clothing supplier is continually widening the doorway to the best quality apparel deals in the industry by upgrading savings opportunities for customers in both domestic and international markets. ApparelUS.com makes it possible for anyone to save and shop wholesale.
"No matter who you are, we are happy to have your business. We provide a fine, extensive online selection of wholesale apparel. 'Clothing available to absolutely everyone' means that no one is required to purchase a minimum amount or to sign up with a business membership," explains manager Nez Klein.
Not only are wholesale prices available to the public, but also everything in the ApparelUS.com inventory is competitively priced and consistently updated.
States manager Nez Klein: "We nurture and maintain positive relationships with the most reputable manufacturers in the clothing industry, and then we pass the savings on to our customers. Nearly every day, we are finding yet another great quality item made from the best fibers and other materials available anywhere. And since our industry buyers have an intimate understanding of the world of fashion trends, they are able to scout out the best, most marketable shoes, accessories, and clothing at wholesale prices."
Customers who shop online will find wholesale tops, pants, dresses, skirts, jackets, womens plus size clothes, shoes, handbags, accessories, men's clothing, and more in an inventory of over 2,500 items that is always being updated.
For more information about buying clothing at wholesale prices at ApparelUS.com, please visit apparelus.com.
About ApparelUS.com:
ApparelUS.com is a multi-lingual online resource for wholesale fashion at bargain prices. With its ease of navigation, multiple savings and discount offers, comprehensive, trend-conscious inventory, and reputation for excellent customer service and responsiveness, ApparelUS.com is a boon to customers from all walks and all parts of the globe. Fashion merchandisers, individual customers, international clothing manufacturing operations, and small to large clothing stores that want to offer fine clothing while realizing significant profit can benefit from shopping their online merchandise.
###