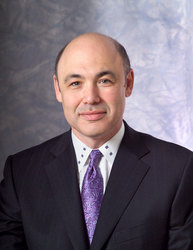 Chicago, Ill. (PRWEB) March 14, 2008
A new hybrid technique is giving patients drug-free relief from the severe, chronic back and leg pain of failed back surgery syndrome, or FBSS-- a condition suffered by up to 50 percent of back surgery patients.
"This new development combines an electronic implanted device called a dorsal column stimulator with a newer technology known as peripheral nerve field stimulation," says Chicago pain management specialist Eugene Lipov, MD.
"For many years, physicians have used the dorsal column stimulator to control the leg pain of FBSS, commonly known as sciatica, but it does nothing to relieve back pain," Dr. Lipov explains. "Peripheral nerve field stimulation is very effective in relieving back pain. By combining the two technologies, patients can have the best of both worlds -- the back and leg pain relief they can't get with even the strongest pain medications.
"Narcotics don't work well on nerve pain, which tends to be opiate-resistant," says Dr. Lipov. "Subcutaneous, or under-the-skin, nerve stimulators treat pain that has been unresponsive to other approaches. The dorsal column stimulator and peripheral nerve field stimulation use electrical waves to block the body's pain signals to the brain."
Linda, age 53, is one of 16 FBSS patients who have had the new hybrid procedure successfully performed by Dr. Lipov and his colleague, Jay Joshi, MD. Today, she is pain-free without drugs.
"I've had rheumatoid arthritis for 30 years," says Linda. "I've had both knees and one elbow replaced, and my hand has a lot of replacements in it. But what took me over the edge was the constant pain in my left leg and lower back after I had a laminectomy and spinal fusion. When I first went to Dr. Lipov, the pain was so severe that I couldn't stand for more than 10 seconds."
Linda had tried everything to find pain relief -- from steroid injections to Tylenol with codeine to morphine -- but it barely made a dent in her pain. "I was always concerned with the addiction aspects of pain medication," she recalls. "And for the kind of pain I had, the pain medication was almost worthless.
"The pain was unbearable even when I was sitting or lying down," she recalls. "I didn't know how I was going to get through another day."
In November 2007, Linda underwent a trial of the hybrid stimulator. "When I woke up from the stimulator surgery trial, I wasn't having pain," she says. "I was amazed! I would always have pain in my left leg when I turned from one side to the other. Now it wasn't happening. From that day, I have not needed to take anything for the pain in my leg."
The hybrid device allows Linda to control her own pain. "The stimulator has a controller device the size of a thick flip-phone," she explains. "A wire attached to the controller leads to another device called the antenna, which is the size of a thinner flip-phone. I place the antenna over where the stimulator is implanted in my abdomen, and that's how the controller talks to the stimulator.
"In the middle of the night when I turn over, I can feel the pain start to come full-force like before," says Linda. "But when I turn on the stimulator, the pain is gone within 15 seconds. I'll leave the stimulator on for a couple of minutes. Then, once I'm sure the pain is gone, I'll turn it off again and I'm pain-free.
"I can also increase or decrease the intensity of the stimulation," Linda explains. "I have three different leads to three different parts of my lower back and my leg, and I can control the intensity of the stimulation to each one individually."
The stimulator has allowed Linda to live a normal life. "Now I can go shopping," she says. "For a year, I wasn't even able to stand up and brush my teeth. People used to do everything for me because I couldn't get up and do it. I forgot I could go to the kitchen and get my own cup of coffee!
"The relief was there from day one with the hybrid stimulator," says Linda. "The procedure was a breeze. It's day surgery. I was there six hours at the most."
Being pain-free has also made a dramatic change in Linda's disposition. "When my friends saw me getting up and around, they said, 'Look at you smiling!' Before, I had that pained look on my face all the time, and I don't have it at all now. It's absolutely incredible!"
When Linda came to Dr. Lipov's office for her post-operative appointment, he saw the difference immediately. "She was glowing," he recalls. "I said, 'Wow, look at you! You look like a different person!'"
"To be free of that pain is incredible," says Linda. "It's made all the difference."
Eugene Lipov, MD, and Jay Joshi, MD, are pain management specialists with offices in Chicago and suburbs. They focus on developing new technologies to help patients live free of pain. For more information, visit http://www.painmngt.com or call 877.964.7246.
# # #