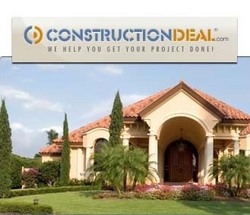 Los Angeles, CA (PRWEB) March 18, 2008
Spring is here. Time for homeowners to start thinking about cleaning, maintenance, and home repair. Because it's officially that time of year, ConstructionDeal.com announces it is imperative to ignore this bad advice to maintain one's home. This is an extreme change in policy for the website that matches contractors to homeowners but it's one they feel will help the recovery of the economy in the United States. **
With the return of Spring, homeowners might be thinking about hiring professionals to inspect and repair systems in their house. They could waste small amounts of money checking out electrical and plumbing equipment, inspecting the roof for damage or the septic fields for failure, or cleaning gutters or dryer ducts and dampers, or checking out air conditioning units before they turn them on.
But this maintenance does little for the economy in general. ConstructionDeal.com has a network of qualified contractors waiting to perform large and expensive projects. Inspecting an A/C unit and replacing the furnace filter only brings in nickels and dimes to HVAC Contractors. Cleaning in and around the clothes dryer prevents fires and keeps Fire & Water Damage Contractors from bidding on expensive restoration jobs. Not fixing or repairing a damaged roof before the "Spring Showers" means the owner will have to pay for a completely new roof, which is great news for Roofing Companies.
In order to keep big, expensive projects rolling in for contractors across the country, ConstructionDeal.com recommends that anyone who owns a home just sit tight and wait for major systems throughout their house to fail. This will make all of our qualified service professionals very happy.
However, if any homeowners feel the need to talk to air conditioning pros, duct cleaners, handymen, roofing contractors, or septic specialists about preventative maintenance, ConstructionDeal.com understands. For projects large (and small), the website matches homeowners to contractors free of charge.
About ConstructionDeal.com
ConstructionDeal.com helps homeowners and business owners get their projects done. Since 2004, they have developed a nationwide network of quality contractors and service professionals ready to help these project owners. People can post residential and commercial requests for free and are connected to local experts, usually within 24 to 48 hours. ConstructionDeal.com, a trusted member of the Better Business Bureau, is the fastest growing contractor referral service in the industry.
(** Tongue planted firmly "in cheek", ConstructionDeal.com does not truly want people to avoid having the systems in their house inspected or repaired. But many do ignore regular maintenance every year and it leads to damage, expensive repairs, system replacements, and even injury for some.)
Contact:
Tim Clark
Creative Director
ConstructionDeal.com
818-657-8002
Construction Deal, Inc.
5152 Sepulveda Blvd. #114
Sherman Oaks, CA 91403
818-657-8000
866-663-4711
###