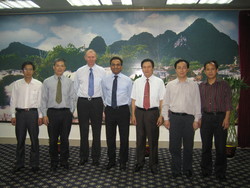 BizEsp prides itself not only on the excellence and economic sustainability of its technologies but also on the environmental sustainability of its products. Thus, BizEsp technologies minimise the use of precious and scarce raw materials as well as offering technical enablers for recycling electronics waste back into upstream materials and components for use in electronics manufacturing
Oxford, UK (PRWEB) March 19, 2008
Oxford, UK. BizEsp Limited announced today that it is in advanced stages of a programme to manufacture Indium Tin Oxide (ITO) sputtering targets for TFT LCD industry in cooperation with Liuzhou China-Tin Group also known as Huaxi Group, a major indium, zinc, antimony and tin mining company based in Liuzhou, Guangxi Province, China. The two companies signed a long-term cooperation deal back in May 2007 for manufacturing ITO as well as other metals oriented products. It is expected that the manufacture of ITO targets will commence in purpose built facilities in Liuzhou in 2008.
ITO is used to make transparent conductive coatings on glass or plastics. Thin film layers can be deposited by electron-beam evaporation or sputtering onto glass or onto plastic films in roll to roll coating processes. Typical applications of ITO-coated substrates include touch panel contacts, electrodes for LCD and electro-chromic displays, energy conserving architectural windows, solar panels, defogging aircraft and automobile windows, heat-reflecting coatings to increase light bulb efficiency, gas sensors, antistatic window coatings, wear resistant layers on glass, etc. The major high value applications are manufacture of transparent conducting electrodes for TFT-LCD industry and conducting electrode for use in solar panels.
The process of building transparent conducting ITO electrode tracks starts with a solid and dense ITO tile which has a grey semi-metallic appearance. The manufacture of the ITO tile itself involves a complex process encapsulated in BizEsp proprietary technology developed in Oxford, UK. The ITO tile comprises 90% indium metal and 10% tin metal with some oxygen content. The key raw material in ITO is indium metal which is a globally scarce resource. Huaxi group has significant reserves of indium metal amounting to 4000 tons of virgin material.
Announcing the cooperation, BizEsp CEO Dr Dosten Baluch said "this is a major strategic step for both companies. We have combined BizEsp's proprietary technologies in specialist ceramics processing with Huaxi Group's indium mining and processing capability to deliver high quality ITO tiles for the TFT LCD industry in Asia. This is a good example of the way BizEsp cooperates with raw material producers for conversion of lower value raw materials into higher value products for the electronics industry. Our cooperation will deliver ITO tiles suitable for TFT LCD industry including large size tiles for Generation 7 TFT LCD lines. This will be the first example of domestic production of such tiles in China. Our cooperation with Huaxi also shows how British or Western technology specialists can work with Asia raw materials produces in mutually beneficial relationships."
BizEsp Limited specialises in Electronics Materials Technologies especially technologies that enable scarce metal or polymeric raw materials to be converted into higher value added products and components for use in electronics manufacture such as flat panel televisions, cell phones, ipods, music devices and solar energy panels. BizEsp CTO Dr. Charles King said "BizEsp prides itself not only on the excellence and economic sustainability of its technologies but also on the environmental sustainability of its products. Thus, BizEsp technologies minimise the use of precious and scarce raw materials as well as offering technical enablers for recycling electronics waste back into upstream materials and components for use in electronics manufacturing".
As part of the long-term cooperation programme which envisages further projects between the two companies including joint ventures, Huaxi group has bought a minority stake in BizEsp Limited. It is expected that the two companies will collaborate in further future projects for manufacture of added value products derived from other Huaxi mining reserves such as zinc, tin and antimony.
Further details and product data sheets will be shortly available from the Company's web site http://www.bizesp.com.
###