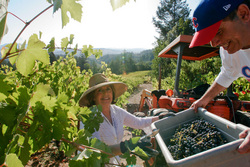 It would be hard for anyone to walk away not understanding Sonoma wines
Santa Rosa, CA (Vocus) March 18, 2008
Sonoma County Grape Camp, a behind-the-scenes three-day wine and food adventure, is designed to explore the fine craft of taking winegrapes from the vineyard to the bottle and more.
Produced by Sonoma County Winegrape Commission and Relish Culinary School, this event offers consumers hands-on experience harvesting grapes and blending wine to take home, as well as exclusive access to influential winemakers and chefs who help make Sonoma County Wine Country a world-class destination.
The second annual Sonoma County Grape Camp will take place during the exciting harvest season, Sept. 29 - Oct. 1. Camp highlights include an outdoor vineyard reception dinner overlooking the Dry Creek Valley at Frei Brothers Reserve Winery, featuring a kickoff toast by Gina Gallo, winemaker of Gallo Family Vineyards. Noted chefs Duskie Estes and John Stewart of zazu restaurant and farm will prepare dinner.
Campers will also enjoy a "Cooking with Sonoma Wine" workshop under the direction of renowned Chef/Author John Ash. Other camp activities include a private dinner feast in the Kunde wine caves, and a picnic lunch in Saralee's Vineyard featuring a top Sonoma cheesemaker and premier coffee roaster, Andrew Barnett, of Ecco Caffe. There will also be visits to Jordan Winery, Tandem Winery, Valdez Family Winery and Francis Ford Coppola Presents Rosso and Bianco Winery.
Featuring a unique consortium of mountains and valleys, coastal breezes and oceanic fog, Sonoma County's varied topography and climate make it one of the most diverse winegrowing regions in the world. Sonoma County Grape Camp embraces this distinction, offering campers memorable experiences in several growing regions within the county.
"It would be hard for anyone to walk away not understanding Sonoma wines," said one of last year's participants.
Campers will acquire a deeper understanding of Sonoma County wines and appreciation of what really goes into making great wines there.
Tuition is $1,500 per person for each couple ($200 single supplement) and includes two nights hotel stay at the luxurious Vintners Inn, as well as all meals, seminars, transportation and activities listed on the camp schedule.
There is an optional special all Pinot Noir graduation camp dinner at John Ash & Co prepared by Executive Chef Jeffrey Madura, along with an additional night at the Vintners Inn available at an additional cost.
For further information, the camp schedule and registration, visit http://www.SonomaGrapeCamp.com or call (707) 522-5860.
To view the 2007 camp video, click video here.
In addition to the Sonoma County Winegrape Commission and Relish Culinary School, other Camp partners include the Sonoma County Vintners and Sonoma County Tourism Bureau.
The Sonoma County Winegrape Commission was established in 2006 as a non-profit marketing and educational organization dedicated to the promotion of Sonoma County as one of the world's premier grape growing regions. With more than 1,800 growers, SCWC's goal is to increase awareness and recognition of the quality and diversity of Sonoma County's grapes and wines through dynamic marketing and educational programs targeted to wine consumers around the world. For more information about SCWC and its programs, visit http://www.sonomawinegrape.org.
Editor's Note: Contact Larry Levine for camp photos. A very limited number of camper spots are available for media with coverage assignments. Please get in touch with Larry at for an application.
Contact:
Larry Levine
707-522-5863
###