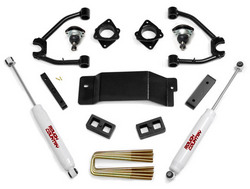 lift kit] to their Easy Lift Line. By design, this new kit will level the 07-08 Chevy 1500 Pickup while giving the ability to run up to a 32
Dyersburg, TN (PRWEB) March 19, 2008
Rough Country recently released the new 2007-2008 Chevrolet 1500 Pickup 3" lift kit to their Easy Lift Line. By design, this new kit will level the 07-08 Chevy 1500 Pickup while giving the ability to run up to a 32" tire without breaking the bank.
The 07-08 Chevrolet 1500 Pickup 3" lift kit includes front strut spacers, which install without disassembling the strut or the use of a strut compressor. Driver and passenger side differential drop brackets are included in order to maintain proper CV axle angles and new upper control arms will allow for a true alignment. The rear is lifted with 1.5" cast iron blocks and receives new u-bolts and premium rear Nitro 9000 shock absorbers. This kit is complete and has an average install time of 3-4 hours.
For more information about the new 07-08 Chevrolet 1500 Pickup 3" lift kit, please contact Rough Country Suspension Products or call 800-222-7023 today. You may also contact Rough Country to find an authorized dealer near you, or visit the "Dealer Locator" link at http://www.roughcountry.com.
About Rough Country:
Formed in early 1970's, Rough Country Suspension Products was one of the founders of the off-road industry and today is one of the fastest growing manufacturers and marketers of lifted suspension packages and off-road accessories for both 2wd and 4wd trucks and SUVs. Rough Country Suspension Products is owned by Heckethorn Products. Heckethorn Products has a storied history in the automotive aftermarket that includes inventing the first steering stabilizer for military Jeeps in the 1950s. As a complete supplier, Rough Country Suspension Products offers retailers, jobbers, and consumers an opportunity to purchase products the market is demanding.
###