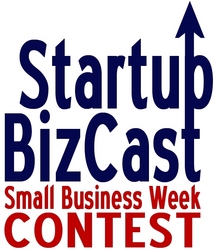 I'm thrilled to have the opportunity to host this podcast every week, and I learn a great deal from my guests
Richmond, VA (PRWEB) March 19, 2008
In each of its 40 episodes, small business podcast Startup BizCast has given valuable advice to entrepreneurs and owners of small businesses. National Small Business Week is April 21-25, 2008 in the United States, and as part of that celebration, Startup BizCast will not only be giving advice, but will also be giving away valuable prizes designed to help entrepreneurs.
Each week, Startup BizCast features small business news as well as interviews with experts on managing and growing entrepreneurial endeavors. The show is the flagship program of EndGame PR Podcast Production, a business podcast production service operated by EndGame Public Relations, LLC in Richmond, VA.
"I'm thrilled to have the opportunity to host this podcast every week, and I learn a great deal from my guests," said Startup BizCast Host Steve Mullen, who is also the owner of EndGame Public Relations. "National Small Business Week is an important celebration of the backbone of our economy, and I organized the Startup BizCast Small Business Week Contest as a way to help small business owners, entrepreneurs, freelance 'independents', and even those who are thinking of starting a business."
The contest begins March 19, 2008 and ends on April 12, 2008, when a random drawing will select the winners. There are three prize levels (one grand prize and two runners-up), each with prizes designed to help the winner grow his or her business.
Prizes to be given away in the Startup BizCast Small Business Week Contest include coupon codes worth $360 from premier online press release newswire PRWeb, a website SEO evaluation plus one hour of consultation from Search Engine and Internet Marketing firm NetSearch Direct, and one year of unlimited online data backup from Carbonite. The grand prize winner will also be interviewed on the Startup BizCast episode that will air during National Small Business Week, during which the winner will be given a wonderful opportunity to promote his or her business to the shows listeners.
The total value of the prizes available is nearly $2,000, not counting the interview on Startup BizCast.
For more details on prize levels and instructions on how to enter, please visit http://www.startupbizcast.com/contest.
About Startup BizCast
Startup BizCast, produced by EndGame PR Podcast Production, is the small business advice podcast that's shorter than your coffee break. Episodes are each shorter than 15 minutes, and feature advice on topics important to entrepreneurs and potential business owners. To listen to episodes, find out how to subscribe to the show, and learn about sponsorship opportunities, please visit the Startup BizCast Blog.
About EndGame PR Podcast Production
With more than 15 years of communications experience, including seven years in radio and television news, EndGame PR Podcast Production (a service of Richmond, Virginia-based PR firm EndGame Public Relations, LLC) creates professional podcasts and other Internet-based audio programs for businesses, nonprofits, and government entities. With systems in place for local and non-local clients, EndGame PR Podcast Production assists with not only the actual audio production, but also development of show concepts and formats, promotion, and even "nuts and bolts" such as hosting and online presentation.
###