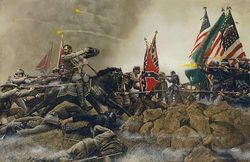 Shenandoah, Daughter of The Stars.
Charlotte, NC (PRWEB) March 21, 2008
Great-great grandson pays tribute in a novel to great-great grandmother's Civil War journal recollections.
My great-great grandmother, Elizabeth Breakfield, was a young, Shenandoah Valley, Virginia girl; seventeen years old at the time her journal was written. It was a time when most young ladies thoughts were turning to love, marriage and settling down to domestic responsibilities. Elizabeth's mind was diverted to thoughts of war as a civil conflict between the Union and seceded states of America erupted. April 12, 2008 marks the one hundred-forty-seven year anniversary of the start of the American Civil War.
I can only wish that the reader might enjoy, as I did, casually reading the story from the viewpoint, in the very home, in which it was written. I wish they might turn the yellow pages with me, and read for themselves of events which seem, somehow, more vivid for the fact that the ink is faded brown with time. I wish that when the journal tells of "blue coats coming down the road" the reader might glance up and out through the open window, as I did, and see the very road down which they came.
Imagine yourself in a small country manor in the Shenandoah Valley of Virginia, standing in a grove of gigantic oaks surrounded by cotton fields and corn. Imagine yourself in a large comfortable room in this home, in an old rocking chair by the window. From the window you may see the brick well-house, its roof mottled with the shadows of branches above; beyond, the garden and the road, and far away in the brown fields black folks and mules at work. Then look down at the large book resting in your lap and read:
JANUARY 1, 1862.
"A new year has been presented, but joy and peace comes not with it. Scarcely a Shenandoah family but has given some of its members to the bloody war that is still slaughtering our nation. Oh, that its devastation may soon be stopped! Will another year find us among butchery and carnage? Shall we be a nation or shall we be demolished? . . . The prices of everything are very high. Corn eight dollars a bushel, calico twelve dollars a yard, salt, sixty five dollars a hundred, cotton from seventy to eighty cents a pound, everything in like proportion."
JULY 22, 1862.
"We have heard the loud booming of cannon all day. Mr. Pritchard [the overseer] went over to the burial of Thomas Hopkins, whose death I witnessed yesterday. They had but just gone when the Rev. Clayton Davis, wife, and daughter drove up with their wagons, desiring to rest awhile. They went into the back room and lay down, I following them, wishing to enjoy their company. Suddenly I saw the servants running to the palings, and I walked to the door, when I saw such a stampede as I never witnessed before. The road was full of carriages, wagons, men on horseback, all riding at full speed. Judge Jackson stopped, saying: "Miss Breakfield, the Yankees are coming. They have got my family, and here is all I have upon earth. Hide your mules and carriages and whatever valuables you have."
DECEMBER 24, 1864.
"This has usually been a very busy day with me, preparing for Christmas not only for my own tables, but for gifts for my servants. Now how changed! No confectionery, cakes, or pies can I have. We are all sad; no loud, jovial laugh from our boys is heard. Christmas Eve, which has ever been gaily celebrated here, which has witnessed the popping of fire-crackers [the Southern custom of celebrating Christmas with fireworks] and the hanging up of stockings, is an occasion now of sadness and gloom. I have nothing even to put in Emily's [niece] stocking, which hangs so invitingly for Santa Claus. How disappointed she will be in the morning, though I have explained to her why he cannot come. Poor children! Why must the innocent suffer with the guilty?"
Oh April 12, 2008 let us remember the start of the American Civil War, one hundred forty-seven years ago. The lives it claimed and the nefarious causes it was fought over. Let us forever remember, not only the poor souls that were lost in carnage on the battle fields, but the lives of the families that were forever changed in this major turning point in our great American history. The novel "Shenandoah, Daughter Of The Stars" is dedicated to my great-great grandmother.
August Parker is available for an interview. Please contact him at: Address: P.O. box 4, Waxhaw, N.C. 28173
August is a businessman and has turned to researching his family genealogy. August was born in Bedford, Virginia in 1958 and grew up in the Statesville, N.C. area. The novel August Parker has written is titled, "Shenandoah, Daughter of The Stars." It is available on-line at Amazon.com and LuLu.com as well as numerous bookstores nation-wide.
###