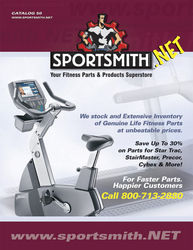 The SPORTSMITH mission is to supply the most popular fitness equipment parts, the best functional and personal training products in the fitness industry with the benefit of hassle-free customer service, 24/7 online ordering and express same-day shipments
Tulsa, OK (PRWEB) March 20, 2008
SPORTSMITH™ President Brad Schupp is proud to announce the release of the 2008 SPORTSMITH Spring Edition Catalog, featuring the industry's largest selection of Life Fitness equipment parts, strength and functional training products, with express same-day shipping.
The 212 - page catalog features an expanded selection of http://www.sportsmith.net/products.aspx?Category=6c5ed69d-71ab-4c15-a47a-ac3846d58f34 and accessories. The newest additions to the LifeCycle parts section are the upright models LifeCycle 90C, LifeCycle 93CI, Life Cycle 95CI, Life Cycle 95CE, also featuring the Life Cycle Recumbent models such as LifeCycle 90R, LifeCycle 93R, LifeCycle 95R, and LifeCycle 95RE.
Life Fitness Cross Trainer models include parts for the popular Cross Trainer 8500 and 9100 rear drive units. The Life Fitness Treadmill T-Series models include the Lifestride 93T, Lifestride 95TI, Lifestride 97TI, and Lifestride 87TE.
All http://www.sportsmith.net/products.aspx?Category=6c5ed69d-71ab-4c15-a47a-ac3846d58f34 distributed by SPORTSMITH are genuine factory replacement parts and carry a full 120-day warranty.
To help build awareness to the Life Fitness equipment parts selection SPORTSMITH is now offering a 15% discount off all Life Fitness equipment parts from now until March 31, 2008 via the SPORTSMITH website at http://www.sportsmith.net, promo code: LF3EM must be used at the time of check out and is only available for online purchases of Life Fitness equipment parts.
The SPORTSMITH catalog further offers a new expanded selection of Locker Room Essentials, Personal Care, Body Washes, Shampoos and Conditioners. Functional training items include Fitness Boxing, Balance & Stability, Aerobic Mats, Speed & Agility, Sports Specific Training, Fitness Measurement, Audio Accessories, Resistance Tubing & Bands, Weighted Resistance and many more items.
SPORTSMITH Indoor Cycling Products include parts for Schwinn, Star Trac Johnny G Spinner, V2 and V-Bike and RevMaster. Equipment mats, tools, lubricants, cleaners and accessories are also offered.
Innovative strength training products feature Cybex Classic and VR2 Upholstered Pads, Cable Attachment Bars, Hardware and Accessories, Kettlebells, Dumbbells, Racks and International Bars. A variety of the most popular functional training and core/balance products include Polar® Heart Rate Monitors, SportStep, the Original Health Club Step™, SPORTSMITH Resistance Bands, Medicine and Stability Balls, Yoga and Exercise Mats.
"The SPORTSMITH mission is to supply the most popular fitness equipment parts, the best functional and personal training products in the fitness industry with the benefit of hassle-free customer service, 24/7 online ordering and express same-day shipments," reported Schupp.
All SPORTSMITH fitness equipment parts meet or exceed OEM specifications and include the full SPORTSMITH warranty.
Call 800-713-2880 to request a free catalog by mail or visit:
http://www.sportsmith.net/catalogpromo.aspx
Phone: 800-713-2880
International 918-307-2446
Email: info @ sportsmith.net
Web: http://www.sportsmith.net
###