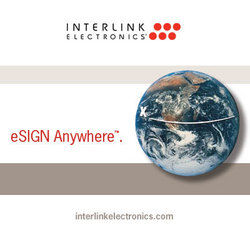 By utilizing the eSignature support in Route One's eContracting software, auto dealers can increase their efficiency, compliance, and enhance the customer experience
Camarillo, CA (PRWEB) March 20, 2008
Interlink Electronics, Inc.'s [OTC:LINK.PK] electronic signature technology, is now integrated into RouteOne LLC's eContracting platform―a move that streamlines the vehicle delivery process and improves customer satisfaction at auto dealerships across the country. Using Interlink's ePad-ink and IntegriSign software with RouteOne, dealers can securely capture and bind their customers' esignature to the finance agreements and ancillary documents.
"By utilizing the eSignature support in Route One's eContracting software, auto dealers can increase their efficiency, compliance, and enhance the customer experience," explains Rod Vesling, Senior Vice President and Officer for eTransactions at Interlink Electronics.
RouteOne was developed in 2002 by the finance arms of Chrysler LLC, Ford Motor Company, General Motors, and Toyota. "We are pleased to offer integration of the Interlink ePad to our eContracting solution," said Mike Jurecki, RouteOne CEO. "As dealers' use of RouteOne eContracting increases we will support their business with improvements to process efficiency and compliance. We are proud to offer our dealers the efficiencies that the Interlink ePad will provide."
About Interlink Electronics Inc.
Interlink Electronics, Inc. [OTC:LINK.PK] provides the financial services industry as well as the healthcare and government sectors with the electronic signature platform needed to eliminate paper from critical business processes. Interlink's complete solution, which includes e-signature software, hardware, and services, allows organizations to implement end-to-end electronic processes no matter where the signing takes place: in-branch, in-the-field or online. Interlink Electronics is also known for its family of MicroNav products, powered by the company's patented Force Sensing Resistor (FSR) technology and integrated in handheld consumer electronics devices. Headquartered in Camarillo, California, Interlink Electronics, Inc. also has offices in Japan, Hong Kong, and China. http://www.interlinkelectronics.com/esign
About RouteOne
RouteOne was formed in 2002 by DaimlerChrysler Financial Services, Ford Motor Credit Company, GMAC, and Toyota Financial Services to create a more streamlined credit application for automobile dealers and their customers. Providing access to more than 21,500 dealers in North America, RouteOne's web-based system allows automotive dealers to submit credit applications to the largest indirect lenders, request credit reports, and increase profitability with RouteOne's free Dealer Reporting Suite. RouteOne's open integration business model also allows the dealer to integrate with their choice of a wide variety best in class partners, including DSPs, CRM systems, F& I modules and menu providers. RouteOne offers dealers a common platform for all their credit application financing needs. More information is available at http://www.routeone.com.
For information, please contact:
Nathalie Benoit
Interlink Electronics, Inc.
805-279-2705
Nbenoit @ interlinkelec.com
For Investor Relations information, please contact:
Michelle Lockard
Interlink Electronics, Inc.
805-484-8855 ext. 114
All registrations and trademarks are properties of their respective owners. IntegriSign is a registered trademark of Interlink Electronics, Inc. This release contains forward-looking statements that involve a number of risks and uncertainties. The following are among the factors that could cause actual results to differ materially from the forward-looking statements: business conditions and growth in the electronics industry and general economies, both domestic and international; lower than expected customer orders; delays in receipt of orders or cancellation of orders; competitive factors, including increased competition, new product offerings by competitors and price pressures; the availability of third party parts and supplies at reasonable prices; changes in product mix; significant quarterly performance fluctuations due to the receipt of a significant portion of customer orders and product shipments in the last month of each quarter; problems or delays in reporting our results of operations to the public; and product shipment interruptions due to manufacturing problems. The forward-looking statements contained in this document regarding industry and review trends, industry product and technology acceptance, product mix and future business activities should be considered in light of these factors.
###