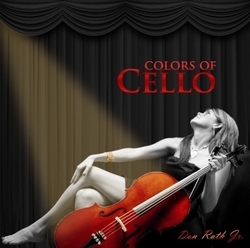 Each piece is in a class of its own ...
Rockford, Illinois (PRWEB) March 21, 2008
Independent Music Publisher, StringTunes, announces the CD release of Colors of Cello by instrumental Composer Don Rath Jr. Colors of Cello is a full length, twelve song compilation of original music featuring the cello. This is the third CD album release for Composer Don Rath Jr. This is Don's third release in 15 months.
On March 21st, the CD and single song downloads will be available for purchase directly through our official website at StringTunes. Full details about Don Rath Jr. and the album Colors of Cello are available there for your review, including the stories behind the songs and their respective instrumentation.
The genre for Colors of Cello is Classical/Chamber music. Similar artists include resemblances to many other popular solo Cello artists and small Chamber Orchestras. The use of various orchestral instruments to compliment the lush Cello arrangements and the flowing melodies create a beautiful soundscape that provides a reflection of the various "colors" of sound possible on the Cello. The music compositions included on this album were written, arranged and produced entirely by Don Rath Jr. The final mastering of the music was provided by Alan Wagner of BigToeStudio in Vancouver, Washington.
Read what others are saying:
Randy writes -- "How nice to hear music that is well thought out and not the same piece rewritten in different ways." -- (Indiana, USA)
Teresa writes -- "Each piece is in a class of its own ..." -- (Kentucky, USA)
Deborah writes "... the music takes you from where you are to a someplace truly wonderful." -- Illinois, USA)
Don is currently in his studio working on album number four slated for release later this year.
Colors of Cello by Don Rath Jr. -- Now available through StringTunes
StringTunes is a privately held business located in Rockford Illinois USA. It was established to provide independent label services for new and emerging artists that utilize the stringed instruments, such as the Violin, Viola, Cello, Bass, Guitar, Harp, etc.
###