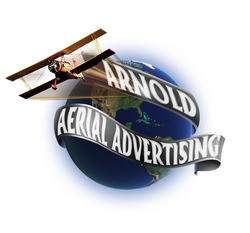 People have become rather immune to the traditional ways of advertising.
New York, NY (PRWEB) March 25, 2008
Beachgoers will be treated to colorful and exciting banner advertising again this summer, as Arnold Aerial Advertising takes to the skies.
While beachgoers enjoy the fun and unique advertising overhead, advertisers find comfort in knowing that their aerial advertising works.
The greatest advantage of aerial advertising, says Michael Arnold of Arnold Aerial Advertising, is its ability to lure the target audience easily.
Specifically, studies show that people remember aerial ads long after they are gone. They retain the information from the ad much longer than they do after viewing a traditional ad.
In the words of Michael Arnold, "People have become rather immune to the traditional ways of advertising."
In fact, Arnold says, "Most people pay little attention to advertising, unless the message is unique or the way of communicating the message is unique. In this regard aerial advertising completes its mission."
It's possible that people pay little attention to traditional advertising because there is so much of it in life. Everyone is bombarded with advertising every day, in every corner of life. Most people hardly notice each little ad, they see, hear or read.
But people pay attention to aerial advertising. It's a novel way of communicating a message which gets people to pay attention. And, best of all, they remember the message.
Aerial advertising can be colorful, bold and noteworthy. It can convey a sense of warmth, a sense of humor or can send a straight-up message that gets people to want a product or service.
New York-based Arnold Aerial Advertising specializes in helping companies get their brand soaring above the competition. This summer they'll be flying over the following beaches:
In California: Malibu, Santa Monica, Venice, Marina Del Rey, Manhattan Beach, Hermosa Beach, Redondo Beach, Hollywood Riviera, Palos Verdes Point, Angeles Gate Park, Long Beach, Seal Beach, Surfside, Sunset Beach, Huntington Beach and San Diego.
In Florida: Clearwater Beach, St. Petersburg Beach, Tampa, Ft. Myers, Jacksonville Beach, Daytona Beach, Fort Lauderdale, Miami Beach, Key West, and Panama City Beach.
In Maryland: Ocean City.
In Massachusetts: Cape Cod, Martha's Vineyard.
In New Jersey: Jersey Shore-Sandy Hook, Highlands, Sea Bright, Monmouth Beach, Long Branch, Loch Arbor, Asbury Park, Avon By The Sea, Belmar, Spring Lake, Sea Girt, Point Pleasant Beach, Lavallette, Seaside Heights, Barnegart Light, Harvey Cedars, Surf City, Long Beach Island, Brigantine, Atlantic City, Ventnor City, Margate City, Longport, Ocean City, Strathmere, Sea Isle City, Avalon, Stone Harbor, Wildwood, and Cape May.
In New York: Long Island-Montauk, Amagansett, East Hampton, Bridgehampton, South Hampton, Hampton Bays, Westhampton Beach, Fire Island, Robert Moses Start Park, Jones Beach, Point Lookout, Lido Beach, Long Beach, Atlantic Beach, Rockaway's, Manhattan Beach, Brighton Beach,and Coney Island.
In Rhode Island: Newport.
In South Carolina: Myrtle Beach.
In Virginia: Virginia Beach.
Arnold Aerial Advertising offers full consultation with advertisers prior to design of an aerial banner.
Contact:
Michael Arnold
Arnold Aerial Advertising
75 Maiden Lane
Suite 215
New York, N.Y. 10038
800-311-9130
212-696-4717
http://www.arnoldaerial.com
# # #