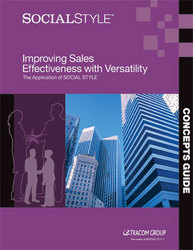 Improving Sales Effectiveness with Versatility
Highlands Ranch, CO (PRWEB) March 25, 2008
The TRACOM Group introduced two new series of training courses and self-study guides geared to business managers and sales professionals. The new resources use TRACOM'S Social Style Model to improve interpersonal skills by teaching managers and salespeople to work more effectively and productively with others. Social Style is the most widely used model for improving interpersonal effectiveness.
TRACOM's new "Improving Managerial Effectiveness with Versatility" (IMEV) and "Improving Sales Effectiveness with Versatility" (ISEV) series of training courses and self-study guides provide specific instruction on how to apply Social Style techniques in managerial and sales activities. For example, a manager will learn how to effectively give feedback, delegate to others and create a productive work environment. A salesperson will learn how to build rapport with prospects, effectively gather information for sales leads, ask for commitment from prospects and close sales.
A 2007 TRACOM study of salespeople showed significant improvement in interpersonal skills after participating in a Social Style training program. This included:

92 percent of people were better at establishing positive customer relationships;
87 percent were better able to influence or persuade customers and;
79 percent improved their ability to generate sales.
Additionally, numerous TRACOM research studies of managers and salespeople that have participated in Social Style training programs have shown that those with strong interpersonal skills perform better in a variety of managerial and sales activities. Specifically, one 2007 TRACOM study showed that managers with high interpersonal skills are:

27 percent better at establishing effective relationships with direct reports;
27 percent have higher effectiveness as a team leader and;
20 percent have higher overall performance.
"The new sales and managerial training products complement TRACOM's existing products for general audiences," said David Collins, TRACOM vice president. "The new courses and study guides allow organizations to select the products and materials most appropriate to their development and training needs."
Organizations and individuals can select from a variety of self-study guides or training programs. Products in the manager training series include:
Concepts Guide – a self -study overview of Social Style written specifically for managers.
Applications Guide – a self-study discussion of how to apply Social Style in managerial activities.
Concepts Course – a half-day course covering the Social Style concepts.
Applications Course – a highly-focused, half-day course that assists managers in creating more productive relationships with direct reports.
Mastery Program – a full-day course covering Social Style and specific managerial applications.
Products in the sales training series include:
Concepts Guide – a self-study overview of Social Style written specifically for sales professionals.
Applications Guide – a self-study discussion of how to apply Social Style in sales activities.
Selling to Achieve Results – a one or two-day course teaching Social Style and sales application skills.
"The applications guides are extremely valuable because they directly address the salesperson's day-to-day needs and work tasks," said Kathy Wojcik, manager of Leadership Development and Learning for Gates Corporation, a long-time customer of Social Style and early user of both ISEV and IMEV. "Our associates have found Social Style to be the most impactful training program they have taken. The STYLE programs have changed how our people do business."
In addition to the new guides and courses, TRACOM has also created managerial and sales norms for use in compiling a person's Social Style Profile. A Profile is generated through an online questionnaire completed by the participant and the participant's colleagues or customers. When the participant's questionnaire data is combined with the data provided by colleagues or customers, it offers a full picture of a person's working style and relationships.
TRACOM also offers "Improving Personal Effectiveness with Versatility Applications Guide," which is appropriate for non-sales and non-managerial employees. To purchase TRACOM products and for additional information and research on the impact of Social Style on performance, visit http://www.tracomcorp.com or call 303-265-6105.
About the TRACOM Group
For nearly 50 years, The TRACOM Group has helped individuals and organizations improve workplace performance by building interpersonal skills, improving teamwork and developing leaders. TRACOM offers measurement-based learning models, courses, surveys, assessment tools and consulting services. Much of TRACOM's work is based on the Social Style Model(TM), a proven model for effective work and personal relationships. TRACOM is a division of Reed Business Information.
Media Contact:
Adriana Saldana
Fisher Vista, LLC / HRmarketer.com
831-722-9910
asaldana(at)hrmarketer.com
This press release was distributed through eMediawire by Human Resources Marketer (HR Marketer: http://www.HRmarketer.com) on behalf of the company listed above.
###