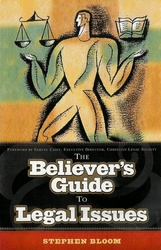 Practical Counsel -- Christian Perspective
Carlisle, PA (PRWEB) March 26, 2008
As an experienced Christian lawyer, Stephen Bloom is accustomed to confidentially providing his legal clients with practical counsel from a biblical perspective, but now, with the April release of his new book, The Believer's Guide to Legal Issues (http://www.believersguidetolegalissues.com), he is sharing his alternative perspective on the law with a public audience. His goal? Bloom wants to bring hope, healing and peace to average Christian believers facing everyday legal situations.
Bloom explains, "With an explosion of laws and litigation engulfing even the Christian community, people need to know that the Bible offers practical, positive alternatives to our often hurtful and destructive secular legal system." As a Christian attorney, Bloom is well aware that his advice is often starkly different than that given by his more secular peers. "I've seen people, including Christian believers, getting caught up in very painful legal nightmares, damaging their relationships, making themselves miserable, all by following traditional secular legal advice and values," Bloom continues, "So I've written this book to empower people to rise above the mindset of greed and revenge so prevalent in the law, to draw them instead to God's vision of lasting peace, restored relationships and true justice."
"A book like this, in our litigation-weary times, has long been awaited," says reviewer Stephen Hague, Executive Director of the John Newton International Center for Christian Studies, "Though, I suspect, some will find Bloom's challenge a bit startling, especially for proposing biblical principles of grace guiding forgiveness and reconciliation over modern notions of justice as 'getting what is due me' that engulf us."
Bloom intends The Believer's Guide to Legal Issues to be a comforting companion and helpful counselor for average Christians interacting with the law. Sharonn Halderman, a recently retired pastor of Bloom's church, agrees, "Steve Bloom has written a helpful and readable book that demonstrates clearly how Biblical principles may be brought to bear on legal issues faced by ordinary people. Bloom contrasts the usual legal approach with the Christian approach in an interesting format that proves to be informative and revealing."
The book is comprehensive in scope, but written in a friendly, conversational tone. Phyllis Bowers, Executive Director of the United Methodist Stewardship Foundation of Central Pennsylvania, notes, "The Believer's Guide to Legal Issues is not dry research but rather practical counsel enlivened by personal stories in the form of 'Life Lessons' and based on relevant biblical insights. From 'pre-nups' to real estate to living wills, this is a must read for those seeking the better way!"
The Believer's Guide to Legal Issues is available at most major on-line book retailers, including amazon.com and christianbook.com, at bookstores nationwide, and via Bloom's website at http://www.believersguidetolegalissues.com. The book includes a Foreword by Samuel Casey, the Executive Director of the Christian Legal Society.
Bloom, a first time author, has been successfully engaged in the private practice of law for more than 20 years, now at the firm of Irwin & McKnight in Carlisle, Pennsylvania. He is an Adjunct Professor of Business at Messiah College and a frequent speaker on Christianity and law. He is a legal columnist for Good News Daily and the former host of the "Practical Counsel -- Christian Perspective" radio program. Bloom has been actively involved in the leadership of numerous community and ministry organizations, including his church, where he is a Certified Lay Speaker.
Book Information:
ISBN-10: 0899570313
ISBN-13: 978-0899570310
Retail Price: $12.99
Format: Trade Paper, 208 pages
Publisher: Living Ink Books
Publication Date: April 1, 2008
For more information about The Believer's Guide to Legal Issues, to arrange an author interview, or to inquire about obtaining a review copy, contact Stephen Bloom.
Contact:
Stephen L. Bloom, Esquire
717-249-7717 or 717-249-2353
Email: sbloom at practicalcounsel dot com
http://www.believersguidetolegalissues.com
http://www.practicalcounsel.com
http://irwinmcknight.com
###