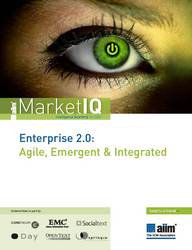 Silver Spring, MD (Vocus) March 25, 2008 -
The AIIM Market Intelligence group has released its Market IQ study "Enterprise 2.0: Agile, Emergent and Integrated". The study of 441 end users, underwritten by CoreMedia, Day Software, EMC, OpenText, Socialtext, and SpringCM, found that a majority of organizations position Enterprise 2.0 as critical or important to business goals and objectives, but that few organizations have a clear understanding of Enterprise 2.0. The single greatest factor impacting attitudes, adoption rates and definitions is corporate culture.
To download the FREE AIIM Market IQ go to:
http://www.aiim.org/article-industrywatch.asp?ID=34464
AIIM is hosting a Special Webinar on Thursday, March 27 at 2:00 PM EDST for organizations interested in the study results. Register for this FREE webinar, presented by the report authors, by going to http://www.aiim.org/webinar-events.asp?ID=4192.
"Enterprise 2.0 is on the minds of most organizations," states AIIM Vice President Carl Frappaolo. "44% of respondents indicated that Enterprise 2.0 is imperative or significant to corporate goals and objectives. Another 27% positioned Enterprise 2.0 as having average impact on business goals and success."
How Critical is Enterprise 2.0 to Your Organization's Overall Business Goals and Success?
Source: AIIM Market Intelligence, 2008
According to Frappaolo, "That's the good news. The bad news is there is still much confusion in the market concerning Enterprise 2.0. Of the organizations polled, 74% stated they have only a vague familiarity or no clear understanding of Enterprise 2.0."
How well is Enterprise 2.0 Understood in Your Organization?
Source: AIIM Market Intelligence, 2008
Market confusion further evidenced in the study the failure of respondents to popularly select a common definition of Enterprise 2.0. AIIM defines Enterprise 2.0 as:
"A system of Web-based technologies that provide rapid and agile collaboration, information sharing, emergence, and integration capabilities in the extended enterprise."
One reason for this chasm between appreciation of impact and a lack of understanding of Enterprise 2.0 stems from the strengths of Enterprise 2.0, low-barrier, low-cost deployment. Many organizations are experimenting with facets of Enterprise 2.0, but few take a holistic strategic view to deployment.
Is Implementation of Enterprise 2.0 in Your Organization Driven More by Ad Hoc Usage
of a Strategy?
Source: AIIM Market Intelligence, 2008
The report, which contains over 50 pages of commentary and 71 distinct data points, includes some surprising insights. According to Dan Keldsen, report co-author and AIIM Market Intelligence Director, "Our research showed that senior management is as much behind the drive for Enterprise 2.0, as end users. This is a far different reality than popular market belief that Enterprise 2.0 is predominately being ushered into organizations through purely bottom-up user-based implementations."
Which Group Is the Primary Driver of Your Enterprise 2.0 Initiative?
Source: AIIM Market Intelligence, 2008
While age had some influence on opinions and attitudes concerning Enterprise 2.0, the study found that corporate culture was a far more influencing factor on organizational adoption and success with Enterprise 2.0. "Using a methodology I employed as a Knowledge Management consultant," said Frappaolo, "we segregated our surveyed organizations based on their affiliation with a Knowledge Management-inclined culture. This, more than any other single factor polarized other survey results. Organizations that exhibited a Knowledge Management-inclined culture were much further ahead in both adoption of Enterprise 2.0 and deriving value from it."
About the Study and Survey
This AIIM Market IQ was conducted during January 2008, and was administered through an online survey instrument. A total of 441 end users participated in the survey.
The authors thank the members of an advisory panel, who provided opinion and guidance on issues such as the construction of the market survey and general frameworks for the publication. Members of the panel were:
• Patti Anklam, Knowledge Management consultant specializing in networks and collaboration, author of "Net Work";
• Stowe Boyd, author of the blog /Message and an internationally recognized authority on social tools and their impact on media, business and society;
• Steven Mandzik, Innovation Consultant for Jasmah Consulting, providing support and consultation to the Central Intelligence Agency (CIA) around Enterprise 2.0 usage in the US intelligence community;
• Andrew McAfee, Harvard Business School professor credited with coining the term Enterprise 2.0 in 2006;
• Eric Tsui, Professor of Knowledge Management at The Hong Kong Polytechnic University and also ex-Chief Research Officer, Asia Pacific, Computer Sciences Corporation;
• David Weinberger, Fellow at the Harvard Berkman Center for Internet & Society, co-author of "The Cluetrain Manifesto" and author of "Everything is Miscellaneous."
About AIIM (http://www.aiim.org) and the Market IQ Program
AIIM is the community that provides education, research, and best practices to help organizations find, control, and optimize their information.
For over 60 years, AIIM has been the leading non-profit organization focused on helping users to understand the challenges associated with managing documents, content, records, and business processes. Today, AIIM is international in scope, independent, implementation-focused, and, as the representative of the enterprise content management (ECM) industry - including users, suppliers, and the channel - acts as the industry's intermediary.
As the non-profit association dedicated to nurturing, growing and supporting the enterprise content management community, AIIM is proud to provide its Market IQ research at no charge. In this way, the education, thought leadership and direction provided can be leveraged by the entire community.
About the Sponsors
Day Software, Inc.
Day provides integrated content management, digital asset management and social collaboration software. Day's solutions offer a comprehensive framework to unify and manage all digital business content, applications and processes through the web. Day's customers are some of the largest global corporations and include Audi, Daimler, Merck, McDonald's and Volkswagen. http://www.day.com
EMC Corporation
Enterprise content management 2.0 is introducing a new set of requirements. Web 2.0 technologies must be harnessed without compromising organizational control, security, and compliance. The enterprise content management infrastructure must step up in terms of its scalability, services orientation, and virtual repositories. At EMC, we understand this‹and we are making it a reality. http://www.emc.com, 800-607-9546
Open Text
Open Text, an enterprise software company and leader in enterprise content management, helps organizations manage and gain the true value of their business content. Open Text brings two decades of expertise supporting 46,000 customers and millions of users in 114 countries. Working with our customers and partners, we bring together leading Content Experts to help organizations capture and preserve corporate memory, increase brand equity, automate processes, mitigate risk, manage compliance and improve competitiveness. For more information, visit http://www.opentext.com.
Socialtext
As the first wiki company, Socialtext leads the industry in applying next-generation Web 2.0 technologies to the critical challenges facing businesses. With over 4,000 customers, Socialtext wikis are designed for any organization that wants to accelerate team communications, better enable knowledge sharing, foster collaboration, and build online communities. For more information visit http://www.socialtext.com or call 1-877-GET-WIKI.
SpringCM
Enterprise 2.0 and Software-as-a-Service: The Future of ECM. Whether you need an ECM solution for accounts payable, marketing, contract management, human resources, legal, medical records or anything in between, SpringCM can rise to the challenge. With SpringCM, you get all the SaaS advantages including rapid deployment, low initial cost, no hardware to buy or maintain, enhanced security and greater business agility. Find out more at http://www.springcm.com.
Contact:
Beth Mayhew
Director of Marketing
301.755.2681
Carl Frappaolo
Vice President, AIIM Market Intelligence
617.933.2584
AIIM - 1100 Wayne Avenue, Suite 1100, Silver Spring, MD 20910, 301.587.8202
###