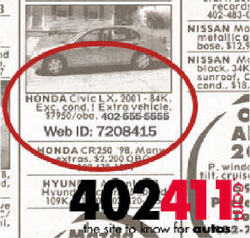 We are very pleased to power the new Lincoln Journal Star Classified service. It's a unique offering that reaches customers any time and any place
Philadelphia, PA (PRWEB) March 27, 2008
CellSigns, Inc., the leading provider of mobile services for newspapers, announced today that they were selected by The Lincoln Journal Star, a division of Lee Enterprises, to launch the first mobile classified ads in Nebraska. The service from CellSigns, called Cellifieds, empowers classified advertising Publishers, providers and aggregators to monetize classified ad content via cell phones. Readers can now get details on-the-spot for auto listings in the Lincoln Journal Star newspaper. Interested in buying a car? The new service brings print to life with photos and other detailed information, including more extensive searches, all in the palm of your hand.
Here's how it works:
Text a Web ID to 402411 to get all the information on the car of your dreams. OR text a search term to 402411 on your mobile phone and get the results sent back to your phone. Select the match you want by replying with the number of the auto you want to see more information on. Search for dealers on your mobile phone. Text a "dealer name" or a location to get more info on that dealer or information on dealers nearby the location you submitted.
With CellSigns' Cellifieds, users can request and receive information on classified ads by texting specific codes to the service or perform a mobile search using targeted keywords and search criteria. Readers can now get results for real estate, autos, jobs and other info-on-the-go. The user also gets additional information not available in print, including pictures and they can contact the seller directly with a click-to-call. In addition, those who advertise in the classifieds section of the Lincoln Journal Star have the benefit of having their selling information reach a wider range of readers in real-time all by using one unique mobile ID. The Lincoln Journal Star is making an effort to focus on using the mobile platform tool of CellSigns to help benefit the local dealers and dealer inventory.
In conjunction with their mobile platform, The Lincoln Journal Star has announced the launching of their new web site devoted to their Web ID, http://www.402411.com. "We would like to be on the forefront of this emerging technology," says Manoj G. Nair, Lincoln Journal Star.
"We are very pleased to power the new Lincoln Journal Star Classified service. It's a unique offering that reaches customers any time and any place," said Mark Ford, CEO, CellSigns, Inc. "The landscape for newspaper classifieds has changed and we are helping drive revenue into the classified category for the newspaper. We are now servicing over 1.5 million mobile ads and that number is growing rapidly every day. With over 28 billion text messages sent and received every month in the United States, our services provide information on demand to anyone with a cell phone while providing a powerful new revenue stream for our clients."
About Cellsigns
CellSigns (http://www.cellsigns.com) is a leading mobile applications company providing interactive solutions for businesses via text messaging, SMS, MMS and WAP. Supported by every major wireless carrier and working on over 99% of all cell phones, the company offers newspapers mobile classified ad and mobile content delivery, mobile marketing services, private label mobile search tools, click-to-chat, click-to-text, Mobile IM (MIM) applications, customized alerting, mobile agent and the only interactive property marketing service for real estate. CellSigns powers over 1.1 million real estate listings, 1.5 million mobile ads and alerts. The company has won several NAA (Newspaper Association of America) industry awards for its mobile newspaper clients and was named the Most Innovative Technology by Inman News.
Cellsigns Contact
Dave Geipel, CellSigns
877-747-9274
dgeiel @ cellsigns.com
About Lincoln Journal Star:
The Lincoln Journal Star is the premier news and information source in Southeast Nebraska. Along with the area's leading daily newspaper, we publish several niche publications; have a direct mail operation, several web sites and a commercial printing operation.
The Journal Star is a division of Lee Enterprises with approximately 450 employees in many fields such as finance, advertising, circulation, editorial, engineering/maintenance, information systems, marketing, and production.
The Journal Star also owns and operates the Beatrice Daily Sun, Fremont Tribune, Columbus Telegram, Schuyler Sun, David City Banner Press and Plattsmouth Journal.
Lincoln Journal Star Contact
Manoj G. Nair, Lincoln Journal Star
926 P Street Lincoln NE 68508
Phone: (402) 473-7474
email: mnair @ journalstar.com
http://www.journalstar.com
###