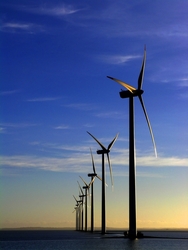 Milford, NH (PRWEB) March 27, 2008
Hendrix Wire & Cable, has been a premier provider of high quality overhead and underground power distribution products for over 50 years, announces its offering of 34.5 kV TRXLP-insulated medium voltage cable for applications in the wind power industry. All cable is manufactured in the USA, made and tested to ICEA/AEIC Standards and is dry-cure, triple-extruded.
Hendrix Wire & Cable Offers Exclusive Compound Handling System
All Hendrix medium voltage cable, including the 34.5 kV, is manufactured using their exclusive compound handling system that transports insulating compounds from the railcar to the extruder, to minimize contamination, and ensure that the cable performs optimally when energized.
Underground Cable Available in Both Aluminum or Copper Conductor
The 34.5 kV underground cable is available in either aluminum or copper conductor, and standard conductor sizes ranging from 1/0 through 1250 kcmil in full and reduced concentric neutral configurations. Quantity and length changes to the underground cable can be accommodated just prior to manufacturing to match up with last minute changes to farm layouts. Hendrix Wire & Cable will coordinate future purchases of both aluminum and copper underground cable to protect customers from volatility in the commodity markets, allowing them to lock-in their costs.
Hendrix Wire & Cable Customer Collaboration
Hendrix Wire & Cable collaborates with customers to develop a delivery schedule that best meets the client's project construction schedule. If project timelines change, Hendrix can offer alternate schedules that best support revised construction schedules. All of Hendrix Wire & Cable's delivery solutions offer extremely high on-time shipment rates.
Hendrix can also provide engineering support to assist clients in aligning their cable specifications with industry standards to ensure they are specifying the optimal product for their specific application and avoiding unnecessary costs.
For more information about Hendrix products and service solutions, please visit http://www.hendrix-wc.com.
About Hendrix's Underground Cable
Hendrix's Underground Cable Business Unit is one of three operating divisions of Hendrix Wire & Cable, Inc., a premier provider of high-quality overhead and underground power distribution products, located in Milford, New Hampshire. The division's benchmark products are 15kV, 25kV, 35kV tree-retardant cross-linked polyethylene-insulated underground distribution cables.
ISO 9001-certified Hendrix Wire & Cable, Inc. is a member company of The Marmon Group, an international association of more than 125 business units that operate independently within diverse business sectors. Member companies have collective revenues of $7 billion. More information about the company is available at http://www.hendrix-wc. com.
# # #