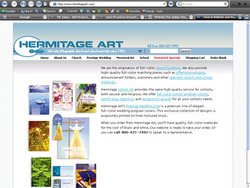 Hermitage Art, the only independent, inter-denominational bulletin publisher, was the originator of the full-color church bulletin in 1924
Chicago, IL (PRWEB) March 27, 2008
Warmer days, brightly colored flowers, and the chirping of birds are all signs that Spring has sprung. These signs also indicate the coming of school graduations. Offering full-color lithographic church and school materials since 1924, Hermitage Art joins in this happy celebration by announcing Spring and graduation themes for church bulletins, school program covers, letterheads, bookmarks, and other products. Hermitage Art also now offers the largest selection of full-color church bulletin cover designs and worship supplies including offering envelopes and letterheads appropriate for any occasion and any denomination.
"Hermitage Art, the only independent, inter-denominational bulletin publisher, was the originator of the full-color church bulletin in 1924," explains Hermitage Art President Robert Brenner. "We have been serving schools both public and private since the early 1960's."
Hermitage Art offers a wide selection of full-color church bulletin resources including seasonal design sets for Thanksgiving, Advent, Christmas, Lent and Easter, featuring offering envelopes, letterheads, announcement folders, and mailing envelopes. Customers can also choose from a range of specialty items such as bookmarks, ornament cards, advent calendars, basic envelopes, and certificates.
Known for the exceptional quality of their designs, paper, and printing, Hermitage Art not only offers inter-denominational church bulletins, offering envelopes and other worship supplies, but their selection of school program covers for religious and secular organizations has continued to grow over the years. The School Art division of Hermitage Art includes program covers, certificates, diplomas, recognition awards, and features graduation themes for special end of the year ceremonies and celebrations. Customers may also choose from a line of wedding and funeral items.
"Hermitage Art church bulletins and school program covers are designed to enhance any worship service or put the finishing touch on any school function for just pennies," says Brenner.
The only place to see the complete selection of products and designs offered by Hermitage Art is at Hermitageart.com, where easy navigation and full-color images of designs make shopping easy. Customers can view designs as thumbnails and then enlarge a particular design to see the detail.
At Hermitage Art customers will be treated to affordable prices and unmatched customer service. Most orders are shipped in 24 hours and representatives are available by phone for customer assistance. For more information about the full-color school and church bulletin resources available through Hermitage Art, please visit Hermitage Art.com.
About Hermitage Art:
Hermitage Art President Robert Brenner's 21 years in the church supplies industry has helped him grow Hermitage Art into one of the largest producers of inter-denominational church supplies in the industry. The originator of the full color church bulletin, Hermitage Art offers mailing envelopes, letterheads, offering envelopes, and more for churches and public and private schools.
###