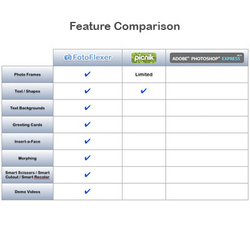 Our users have always been the fuel for our fire, and as much as we strive to exceed their expectations and provide them with features and functionality they haven't yet asked for, we also love talking to them and turning their ideas and requests into new, powerful tools
Berkeley, CA (PRWEB) March 27, 2008
FotoFlexer, the world's most advanced Web-based image editing solution, today announced FotoFlexer 3.0, once again expanding our functionality and ease of use on the heels of our launch of FotoFlexer Pro in February - while remaining completely free for all users. As traditional desktop photo editing platforms attempt to compete by launching stripped-down, free Web-based versions of their editing suites, FotoFlexer 3.0 offers even more of the professional-grade editing tools users would find in desktop suites - but without the hefty price tag and complexity. The way we see it, being free doesn't mean we have to compromise functionality. To illustrate, here is a breakdown of our features and functionality compared to that of our competitors (including the recently-launched Photoshop Express):
As the fastest growing image editor on the Web, FotoFlexer has the advantage of millions of enthusiastic users that provide us with a steady stream of feedback on the features they would like to see included or improved upon. For version 3.0, we've actively polled users and compiled your most requested features, and we translated that feedback into even more new features not available in any other Web-based image editing system, as well a revamped user interface (UI) for increased usability and performance.
Not only does version 3.0 extend FotoFlexer's lead in features and functionality, but since we've studied the ways you like to use FotoFlexer, the new UI makes it even easier to use than ever before. This isn't your grandpa's "cosmetic" UI redesign, though. Everything we've added - from the quick start menu on the home page to the ability to load and save multiple images on the same canvas - leverages FotoFlexer's world-class design principles to ensure that everything is exactly where you want it to be, making it the most intuitive editing platform on the planet.
So whether you're already one of our loyal users or just giving us a shot for the first time, come experience how quickly, easily and professionally you can edit your images - wherever they reside - by visiting us at http://www.fotoflexer.com.
Are You Really The Fastest Growing?
That's right - FotoFlexer is the world's most popular Web-based photo editing platform. With nearly half a million daily unique users across integrations with sites like PhotoBucket, Piczo, Facebook, Bebo and many more, FotoFlexer is used to edit more than 1 million photos per day. And the numbers continue to grow.
So, What's New?
You may remember that we recently launched FotoFlexer Pro, providing users with even more advanced editing functionality so that anyone - novice or pro - could achieve professional-grade editing results in minutes (and for free), avoiding the hefty price tag of desktop editing software like Photoshop or the "Premium" level fees charged by other online image editors. Never content to rest on our laurels, we sought out feedback from our dedicated users to hear what features they would like to see next, and how we could make their experience even better. As a result, we are introducing not only a slew of new features, but a new UI that caters to the preferences of our users, making it even easier to get the best image editing results available on the Web.
Here's what we've revamped and added:

Revamped User Interface (UI) - Based on users' preferences and use patterns, we have redesigned the UI to make the FotoFlexer user experience more intuitive than ever. A quick start guide on the home page, easier saving and sharing of images, and more intuitive grouping of features are just the beginning.
Dynamic Text-on-Canvas System - Users can now type and edit text directly on the canvas, allowing much more flexibility in the adding, resizing and reshaping of text on images. This also includes one-click addition of thought and speech bubbles (found in the "Decorate" tab).
Dynamic Picture Frames - This allows users to select from many new frames (fun, artistic, modern and more) and then dynamically resize them with a slider tool. Frames grow or shrink in real time based on the user's desired size (found in the "Decorate" tab).
More Insert-a-Face Images - We've added even more scenes for users to insert their faces into, and are adding more all the time (found in the "Decorate" tab).
Even More Shapes - Tons of new shapes have been added for users to insert into images, and more are being added all the time (found in the "Decorate" tab).
Poster Maker -This feature puts any photo into the "motivational poster" format, allowing users to customize the title and body text of the poster (found in the "Decorate" tab).
Soften Edges - Users can easily soften the edges of images for a classic look (found in the "Effects" tab).
Exclusive Animated Image Editing
Another new advanced feature that is completely exclusive to FotoFlexer is Animated Shapes, found on the all new "Animations" tab. Animated Shapes provides users with a wide range of animated images that are editable from the canvas, and can then be saved back as animated GIFs. This provides RockYou/Slide-like functionality directly from the canvas, without the need for Flash technology. FotoFlexer developed this technology from the ground up to provide the simplest, easiest animated image editing solution available.
FotoFlexer is currently the only image editing solution in the world that enables users to edit every frame of an animation with a simple click. Even expensive desktop editing solutions like Photoshop require users to edit every individual frame of an animation, making it an extremely time-intensive process. FotoFlexer provides the ability to instantly apply any "Effect" or "Distort" edit to these animations in real time. Simply select an animation, then select the desired effect or distortion, and watch it apply instantly to the entire animation.
To see for yourself and to customize your own animations, check out this tutorial video or follow these step-by-step instructions:
Arrive at: http://fotoflexer.com
Select "Quick Start" from the options on the left.
Select a Sample Image to edit.
Click the "Animations" tab.
Browse our current selection of animations, and import one onto the canvas.
Notice you can resize and rotate the animations just like any other shape using the on-canvas controls.
Try clicking the "Effects" tab to apply the desired color effects to the Animation. Click the desired Animation, then click the desired effect. It will apply the effect in real time across all frames of the animation!
Next, click the "Distort" tab. You can even apply distortions in real time to the animations.
Click 'Save' to save the GIF when you're done.
Even More Integrations
FotoFlexer has always been committed to letting users edit any of their images, regardless of where those images reside. That means that users can easily access and edit images stored locally on their computers as well as photos stored literally anywhere on the Web. In order to make this easier and easier, FotoFlexer continues to integrate with more and more social networks and image repositories to give users seamless access to all of their images, anywhere on the Web. As a result of this seamless integration, FotoFlexer was recently selected by Photobucket to be the exclusive, built-in image editing solution for all Photobucket images. FotoFlexer was also selected as the image editing partner of choice for Google's OpenSocial initiative.
FotoFlexer has already achieved integration with Photobucket, Facebook, MySpace, Digg, Flickr, Picasa, hi5, Ning, and many others. And as of today, FotoFlexer has added integrations with the following sites:

SmugMug
PhanFare
Piczo
TinyPic
"Our users have always been the fuel for our fire, and as much as we strive to exceed their expectations and provide them with features and functionality they haven't yet asked for, we also love talking to them and turning their ideas and requests into new, powerful tools," said Sharam Shirazi, CEO of FotoFlexer. "With FotoFlexer 3.0 we not only added a bunch of new tools that users want, but we have completely redesigned the site to make it even more intuitive than ever. This is just another step in FotoFlexer's constant evolution, as we extend our lead as the most powerful image editor on the Web and as we continue to challenge traditional, desktop image editing software."
FotoFlexer 3.0 is live now, so users can immediately experience the new features and interface now. To get the most control and accomplish the most powerful image editing available on the Web today, start flexing your images now at fotoflexer.com.
Talk to Us.
We truly appreciate our users who now use FotoFlexer to edit over 1 million photos per day, and we hope you have a blast with all the new (and still free) functionality of FotoFlexer 3.0. The redesigned UI and all of the new features are - as always - a direct result of your excellent feedback, so please continue to let us know what you love best, what you'd love to see next, and what you think we can be doing better. If you want the inside scoop on what we're up to, and want to give us some feedback, join us on our blog at http://blog.fotoflexer.com/
###