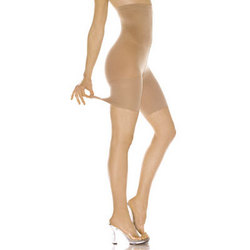 San Gabriel, CA (PRWEB) March 28, 2008
Rumors have been going around that Carly Smithson, a final ten contestant on Fox's hit TV show American Idol, is pregnant. Well it is not so according to Smithson. The twenty-four year old Irish rocker revealed on Wednesday night's results show (03/26/08), that instead she has discovered what millions of other women have discovered...Spanx. According to Spanx retailer WhatSheBuys, the slimming effect of Spanx is the same reason virtually every Hollywood starlet openly admits to using Spanx and why InStyle magazine readers voted Spanx one of "the best body-enhancing inventions ever".
Ryan Seacrest, host of American Idol, asked Smithson about the rumors that have been circulating reporting her being pregnant.
She responded, "Apparently, I'm pregnant, but I'm not (laughing)." She explained that she has been wearing Spanx "to make myself look a bit thinner than I was."
Seacrest looked to Paula Abdul for help, "Spanx? Paula, do you know what these are?" Paula responded by pointing to Simon Cowell and saying, "he does", implying that the judge wears the women's slimming brand.
The humorous banter continued as Seacrest said to the contestant, "so every breath you took was difficult." Seacrest's humor was actually misdirected as the Police song "Every Breath You Take" was sung by a different contestant, Brook White.
According to Cathy Kamimura, Chief Buyer of major Spanx retailer WhatSheBuys, Seacrest confirmed that he doesn't know what Spanx are. "Ryan's comment was funny, but he's never tried them on! Spanx are incredibly comfortable, easy to wear and definitely make you appear much slimmer. With so many options from Spanx lower shapers, upper shapers, camis, slips, and tights, it is no wonder that Spanx has found its way onto American Idol." Smithson wouldn't be the first American Idol contestant to discover Spanx. Former American Idol contestant and Oscar winner Jennifer Hudson is one of the many Hollywood users of Spanx products.
Kamimura reports that the San Gabriel, CA boutique and its online store, whatshebuys.com that does a large Spanx business that increases each time a Hollywood star reveals she is a Spanx devotee. She expects another boost with the Carly Smithson revelation.
She went on to reveal, "We began carrying the line last July. Our customers are so impressed with this product line and how they say it makes a difference in their appearance and their overall confidence."
For more information, contact:
WhatSheBuys PR Department
1-877-942-8743
About WhatSheBuys:
WhatSheBuys is a specialty boutique retailer featuring world-class brands, 5 star rated service, free shipping and free gift wrap. WhatSheBuys is an authorized retailer of best-of-category, world-class brands for her, for him and for child, including Spanx, UGG, Phyto, Mason Pearson, Lodis, Barefoot Dreams, Britax, and Kettler. You can shop WhatSheBuys online at http://www.whatshebuys.com or visit its store in the Old Mission District in San Gabriel, CA.
# # #