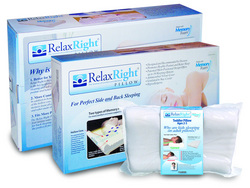 I was tired of listening to my patients complain about the pillow they sleep on
Watertown, SD (PRWEB) March 29, 2008
Relax Right, along with Dr Martin Geoffreys, D.C., CCSP, is pleased to introduce their revolutionary new line of pillow products. This superior line of memory foam pillows combines the science of comfort and wellness.
"I was tired of listening to my patients complain about the pillow they sleep on" says Geoffreys, a chiropractic physician for the past 14 years. "Clearly there was a need for a better pillow…a comfortable orthopedic pillow that supports a wide range of body types in multiple sleep positions. With my experience of anatomy, biomechanics of the spine and treatment of thousands of cases of neck and back pain, I decided to design a pillow that my patients would continue to use!"
Relax Right spent three years making prototypes with different designs and materials and using x-rays and patient feedback to produce the perfect pillow for side sleeping and back sleeping. The result is a high quality, variable density memory foam pillow with a hollow core. By combining two types of memory foam, Relax Right delivers unparalleled support and comfort in exactly the right places. The multi-positional design accommodates a wider range of body types in one single pillow. The hollow core cradles the head and allows it to drop down lower to provide therapeutic traction to the neck area which promotes healthy posture and provides instant relief to a sore neck. The core also adds ventilation to keep the pillow cool. The pillow is hypoallergenic and is finished off with a luxurious antimicrobial velour cover.
Relax Right is offering pillows in three sizes: toddler, big kid and adult. Dr. Geoffrey says, "It is important for children, as well as adults, to correctly support their neck and spine to promote healthy posture and better sleep." The Relax Right line of products also includes neck pillows, travel pillows and lumbar support pillows.
Experience the difference with Relax Right Pillows. Discover for yourself what all the buzz is about with the NEW innovative Relax Right Pillows. For details on Relax Right Pillows visit http://www.relaxrightproducts.com or http://www.lyflo.com. For purchase, resale or dealer inquiries, please call customer service at 877-834-2377.