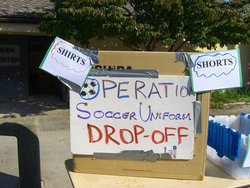 Tom Deierlein and the TD Foundation joined forces with Operation Soccer Shirt Drop Off to get the soccer equipment to the fields of Baghdad
New York, NY (PRWEB) April 2, 2008
Tom Deierlein and the TD Foundation, a not-for-profit with a mission to help needy Iraqi families and children with their most basic living needs including medical care, has recently created a partnership with Soccer Moms from Fair Haven, New Jersey to donate soccer uniforms, balls and equipment to children in Baghdad.
Working as most small communities do, the idea behind Operation Soccer Shirt Drop-Off was hatched on the sidelines of a soccer match where Lisa Haskell and Katy Frissora watched their 4th graders kick the soccer ball around and commented that it was a shame that (as usually happens year after year) at the end of the season the shirts, shorts and socks would simply be stuffed into drawers, perhaps never to be used again. Katy recalled seeing in the news that children in Baghdad love to play soccer, but do not often have uniforms or the basic equipment to play the game.
A quick informal poll of other parents on the side-lines revealed that they shared the same lament: Wouldn't it be nice to donate years of collected recreation sports gear to children that would not only use the equipment right away, but that also shared the same passion for the sport of soccer.
And so, with his personal mission to improve the lives of Iraqi children, "Tom Deierlein and the TD Foundation joined forces with Operation Soccer Shirt Drop Off to get the soccer equipment to the fields of Baghdad". The Fair Haven Recreation Soccer coaches and players look forward to seeing a team picture from Baghdad soon.
About Tom Deierlein and the TD Foundation - Tom's friends in the Advertising Industry created The TD Foundation after Tom, a West Point graduate was reactivated in late 2005 to military service was seriously injured while serving his country in Iraq. The goal of the foundation s to help children affected in war torn Baghdad with basic life needs. The foundation will partner with local organizations, institutions, and people to locate and distribute these goods and services to those in need. This is a grassroots organization. All participants in this fund are volunteers, 100% of donated funds will go to those children and families in need. To learn how you can help Tom and the TD Foundation go online today by visiting the TD Foundation.
###