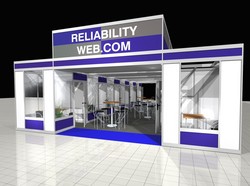 Although we were thrilled to receive strong support from our sponsors from Australia, New Zealand and Canada we are most pleased to bring our American sponsors who should be able to take advantage of the significantly lower dollar to increase exports throughout Europe
Fort Myers FL (PRWEB) April 2, 2008
Reliabilityweb.com announced its participation in EuroMaintenance taking place April 8 to 10, 2008 in Brussels, Belgium as a supporting media sponsor, an educational and best practices contributor and as on of the largest exhibitors in the event.
According to the Belgium National Maintenance Society Bemas, there are already 550 maintenance and reliability professionals pre-registered for the educational conference. Combined with an estimated 5000 attendance for the EuroMaintenance Expo, this is the largest maintenance focused event in Europe.
International maintenance managers and specialists will address best practices, innovations, and trends in maintenance, production reliability and asset management. The three-day event will welcome over 120 speakers from more than 40 countries, who will share their visions in various sessions and workshops, in English or in French, based on case studies from the various industrial sectors. As part of the educational best practice sessions Reliabilityweb.com publisher Terrence O'Hanlon, CMRP will be presenting "Beyond the Power of the Workforce" adapted from W. Edward Deming's 14 points to reflect Reliability values.
Wim Vancauwenberghe, Manager of Bemas states, "In the NYSE Euronext CEO report 2008, based on a survey of 240 of the world's top business leaders, operational efficiency is recognized as the most important internal factor leading to profitability (79 percent). When we set up the EuroMaintenance program, we resolutely opted for quality content that will help attendees in achieving operational excellence in maintenance."
Reliabilityweb.com will also be hosting one of the largest Pavilions in the EuroMaintenance Expo where close to 5000 maintenance professionals are expected to visit over three days. Reliabilityweb.com's EuroMaintenance Pavilion Sponsors include the Association for Maintenance Professionals, Allied Reliability, ARMS Reliability Engineers, ALL TEST Pro, Chevron, Commtest, DMSI, Ivara, LORD, Meridium, OMCS, PdMA, Timken and Uptime Magazine.
"Although we were thrilled to receive strong support from our sponsors from Australia, New Zealand and Canada we are most pleased to bring our American sponsors who should be able to take advantage of the significantly lower dollar to increase exports throughout Europe," declared Bill Partipilo, Business Development Manager for Reliabilityweb.com. "It speaks to the International advantage and reach offered by the Reliabilityweb.com Network."
One of the Reliabilityweb.com Pavilion Sponsors is the new not for profit Association for Maintenance Professionals (http://www.maintenance.org). According to Director Kelly Rigg, "The Association for Maintenance Professionals has no less a goal than to connect every maintenance professional in the world to share best practices and advice so EuroMaintenance provides a great opportunity to reach out and meet as many people as we can during this three day event."
About Reliabilityweb.com:
Reliabilityweb.com (http://www.reliabilityweb.com) includes a network of maintenance and reliability web sites serving over 55,000 maintenance and reliability professionals from around the world. The Reliablityweb.com Network also publishes Uptime® Magazine a bi-monthly publication for maintenance and reliability professionals. The network serves as a resource for Senior Reliability Executives, Plant Managers, Maintenance Managers and Reliability Engineers. Online tutorials, articles, case histories and news items are updated daily.
###