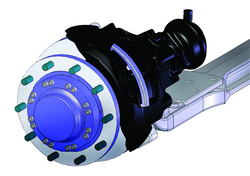 Brookston, Indiana (PRWEB) April 3, 2008
Tuthill Drive Systems is steering a new course for heavy equipment mobility by introducing the first commercially available steerable, hydraulic drive axle for trucks that require both on- and off-highway capabilities.
Ez Trac, which has been in development since June 2007, can be retrofitted as well as installed on new equipment.
Until now, such off-highway vehicle axles suffered from multiple limitations. The vehicle height had to be raised to accommodate the add-on, raising the center of gravity. Truck frame clearance was a problem and installation was time-intensive and costly. The weight of the components themselves also lessened the payload that trucks were able to carry.
EZ Trac overcomes all these issues. Its installation does not alter the truck's ride height, maintaining the existing steering angles and suspension. Installation takes approximately one-third of the time required for mechanical axles to be installed.
EZ Trac's weight advantage allows trucks to carry heavier payloads. EZ Trac offers superior handling by controlling the amount of power that is brought to the front wheels, compared to mechanical axles that control power to the whole truck. And, unlike mechanical systems that require stopping the vehicle before engaging or disengaging, EZ Trac can be engaged and disengaged "on the go" with the use of a cab-mounted switch. EZ Trac enables on-highway vehicles to go off-road with confidence and control.
The target market for EZ Trac includes Class 6, 7 and 8 heavy duty vehicles that are utilized for on- and off-highway applications, such as utility, construction, mining, logging, excavating, agriculture, as well as traditional fleet vehicles. The axle is also ideal for vehicles that face challenging weather and road conditions or steep terrain.
Editor's Note:
A division of Tuthill Corporation, Tuthill Drive Systems has engineered superiour products for the agricultural and off-highway markets for over 30 years, including the legendary MUD HOG steerable hydraulic drive axles that are used worldwide. Tuthill continues to stay ahead of the curve with the introduction of EZ Trac.
Tuthill Corporation is a leading manufacturer and distributor of highly engineered, machined products, including pumps, blowers, vaccum, linkage and control assemblies, suspensions and couplings. With international headquarters in Burr Ridge, Illinois, Tuthill's third-generation family business now has locations on five continents. Tuthill's commitment to customer needs and dedication to engineering detail have resulted in many innovative offerings. For more information, visit http://www.tuthill.com or call 219-279-2801.
EZ Trac is a trademark of Tuthill Drive Systems.
# # #