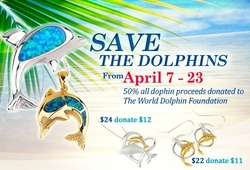 We feel that it is our responsibility to support organizations that are active in the conservation of these wonderful animals
Honolulu, HI (PRWEB) April 7, 2008
In an effort to give back to its community, Remist - an online Hawaiian jewelry store - is donating 50% of its profits from dolphin-related jewelry to the Wild Dolphin Foundation from April 7 through April 23, 2008. The promotion is in celebration of Dolphin Day on April 14.
Remist, located in Honolulu, is known for its collection of dolphin and turtle Hawaiian jewelry, highlighting two of Hawaii's most treasured creatures. The company's website gives prominence to these causes, providing stories where dolphins and turtles are at the center of tales handed down by generations. http://www.remist.com
"We feel that it is our responsibility to support organizations that are active in the conservation of these wonderful animals," said Renfrew Wu, owner and president of Remist. "By donating, we are also contributing to the sustainability of Hawaii's natural environment to continually draw people from all over the world to experience the 'Aloha' spirit."
Remist projects it will donate approximately $1,500 to the Wild Dolphin Foundation from the sale of dolphin jewelry. This is the first time the Hawaiian jewelry store has raised money for charity by donating proceeds from the sale of its products.
"We were looking for ways to give back to the community," Wu said. "We then set out to find organizations locally that are doing conservation work."
The Wild Dolphin Foundation is based in Hawaii with a mission to protect and restore the natural habitats of dolphins worldwide.
About Remist
An online retailer of Hawaiian jewelry, Remist offers a variety of sterling silver, 14k gold and koa wood jewelry. Popular pieces include turtle, plumeria, hibiscus, seashell and dolphin jewelry.
###