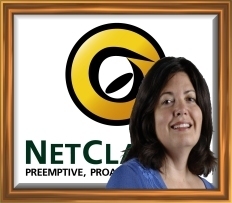 NetClarity is at a critical point in its growth and Smith, an experienced and tenacious strategist with a record of driving emerging companies is the best person to help accelerate our growth and expand our partner network
Bedford, MA (PRWEB) April 7, 2008
NetClarity, the leading provider of NACwall™ (network access control wall) appliances, announced Cheryl Smith, formerly of Network Engines (now NEI) has joined the company as Vice President of Business Development. Smith will be working to rapidly expand NetClarity's network of partners, IP licensing and develop new business opportunities.
"NetClarity is at a critical point in its growth and Smith, an experienced and tenacious strategist with a record of driving emerging companies is the best person to help accelerate our growth and expand our partner network," says NetClarity Chairman and CEO, Christopher Calisi. "As aggressively as NetClarity has pursued being on the leading edge of network security, Smith will work to expand our strategic partnership opportunities."
Most recently, Smith, one of the two Founders of Network Engines (NASDAQ: NENG) also played a key strategic role in the growth and development of Network Intelligence, which was then acquired by EMC for $175 million. Previously, Smith took part in launching the computer industry's first Wintel 1U Web server, which garnered more than $43 million dollars in first year revenue.
"My mission at NetClarity is to manage the incoming requests from technology vendors who have expressed considerable interest in the NACWall functionality." Says VP of Business Development Cheryl Smith. "Our growing patent portfolio allows us to provide partners with unique functionality resulting in for best-of-breed solutions"
Smith has a Bachelor of Science in Human Resources and Education from West Virginia University in Morgantown, WV and a background in accounting and finance from California State University in Long Beach, CA.
About NetClarity
NetClarity is a leading provider of NACwall (network access control wall) products that provide preemptive, proactive network protection using the ABC's of Network Security (Alert, Block and Correct). NetClarity enables customers to clearly see and better protect their network assets, identifying with pinpoint accuracy the root causes of data leakage, regulatory compliance gaps and network downtime using MITRE's CVE® standard. The company's line of appliances has received widespread recognition, including two Best Buy Awards, 5 Star ratings, Best of 2007 from SC Magazine and Tolly Up to Spec in 2007 and 2008. According to CRN, NetClarity is one of the Who's Who in NAC and according to RSA, one of the top three most innovative Network Security companies in the world. NetClarity is based in Bedford, Massachusetts and is privately held. For more information, visit http://www.netclarity.net.
###