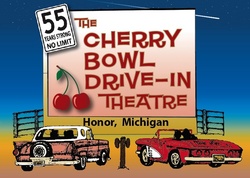 We announce first-time visitors and birthdays, hold hula-hoop contests, and generally have a lot of fun.
Honor, MI (PRWEB) April 9, 2008
Think that old-fashioned, family-friendly entertainment is gone? Think again! Northern Michigan is home to The Cherry Bowl Drive-In Theatre, one of the most unique entertainment venues of its sort in the United States. Opened in 1953 when a new car cost around $1,600 and a postage stamp was 3 cents, the Cherry Bowl has survived and thrived for 55 years. A visit to The Cherry Bowl Drive-In Theatre is a summer tradition among locals and visitors alike. In honor of the anniversary, a new website for the theatre has been launched at http://www.cherrybowldrivein.com
"Our guests become members of our family," explains Harry. "We announce first-time visitors and birthdays, hold hula-hoop contests, and generally have a lot of fun." Many families arrive hours before the show to enjoy a picnic of homemade broasted chicken or "Crazy Harry's" BBQ Ribs from the Cherry Bowl Diner. While waiting for the double feature, the whole family can enjoy a round of 50's style mini-golf, pick up a gift or souvenir at the shops or just watch the kids on the playground.
Harry and Laura Clark are just the second owners of the drive-in, purchasing the business in 1997. Their formula for success is simple: safe, family fun. For the Clarks, the Cherry Bowl isn't just a business, it's a lifestyle and they are passionate about it. Their caring enthusiasm for every customer is contagious and sets the tone for the entire evening.
When dusk arrives and it is time for the main event, parents needn't worry about the content. Pre-screened and never stronger than PG-13 (even some PG-13 movies don't make the cut), the Cherry Bowl features not one, but two top-ten movies plus vintage trailers and cartoons. The Clarks believe that The Cherry Bowl is the only Drive-In in the United States with this family-friendly philosophy.
A carefully preserved piece of American history, the Cherry Bowl Drive-In is open from the 1st weekend in May thru September (weekends-only from May until the 1st weekend in June, then seven nights a week through Labor Day; back to weekends-only for the balance of September). Every night is a double feature. Box office opens at 7:30pm; movies start at dusk.
###