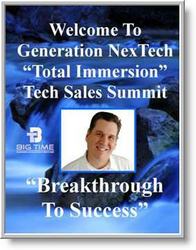 We not only get results improvement, we guarantee it!
Los Angeles, Calif. (PRWEB) April 9, 2008
http://www.ContractorSelling.com has announced that they will broadcast the next three "Total Immersion Sales Summit's" LIVE via streaming internet TV via the internet.
The week-long HVAC, plumbing and electrical sales training sessions will be held starting April 20, May 11 and also on May 18, 2008. The Total Immersion Sales Summit's feature some of the most radical "outside the box" methods of creating desire in the customers of plumbers, electricians and HVAC techs and sales people that have ever been seen and have created the best results bar none.
"We have tested televising of our sales training live during the last two sessions have had fantastic results," Said Joe Crisara, CEO and one of the sales coaches on http://www.ContractorSelling.com, a membership website for service contractor's that supports this unique method with hundreds of videos, audios, articles and downloads including a completely visual flat rate system.
All of this support information and the live broadcast of the next three sales summits are available to service contractors for as little as $24 per month.
"Our last live TV broadcasts were watched by over 700 viewers during the two sessions held in March and April," said Crisara. "To be able to reach that many people in the contracting industry who need our help and to see the results of the people who tuned in were astounding."
"We had people from around the world watching and giving us feedback about their increase in revenue and profit," Crisara continued. "Many have write and called to share their stories of how they increased their average ticket during what has been a disastrous recession that has left many contractors grasping for answers."
The Only Live Online Sales Training Available To Contractors
The live broadcast via streaming TV is a one-of-a-kind format that allows plumbers, electricians and HVAC contractors to improve their customer service and sales all while at the comfort of their own shop with no need to travel.
"I guess the word is out," said Joe. "Our sign ups for the website are now on a record pace. In March we had the single biggest gain in memberships compared to any month since we started the website in August of 2006."
How Can You Tune In On TV and Improve Your Sales and Profit?
You can go to http://www.contractorselling.com and sign up for membership for little as $24 per month and receive this Live TV sales training. There are also other more premium memberships available as well The difference between Total Immersion and other sales training is you not only learn how to sell, but also learn the science behind how the system works so you can fully believe the methods will work. The system sells your customer but more importantly sells you the sales person or tech.
You Can Attend Live In Person As Well
You can also attend the sessions that are being televised live in person if you want as well. There are seats available for the two classes in April and May in Los Angeles as well as the class in Baltimore in May as well.
"Each Total Immersion Summit lasts for six days and granted that is a lot of training." he added, "But, it's the five weeks of follow up video tele-conferehnce coaching and results tracking the attendee get, that separates this from any other sales training like it," Joe said. "We not only get results improvement, we guarantee it!"
Crisara also personally interviews each applicant before they are accepted. "We do this to make sure each person we accept and who attends, will succeed," Crisara added. "We use a revolutionary method which we call "enter-trainment" during the summit which holds the attention of students because they have fun while they learn."
Is The Training Industry Specific?
The science of persuasion is universal so most of the class is held with multiple trades in the same class. However, we do different break our sessions and presentations with each specific trade. The trades covered are Residential HVAC Replacement Sales, HVAC service, Plumbing Sales & Service, Electrical Service and Sales and Remodeling Sales.
"This sales training is for HVAC techs, HVAC Sales People, Plumbers and Electricians who already have attended other sales training and now want to take it to the "next level." said Joe, "We have formed a selling model that is unique in that the results are virtually immediate."
For more info on the "Total Immersion" Summit or to sign up go to our Total Immersion Website at http://www.contractorselling.com or call 877-764-6304 (toll free).
###