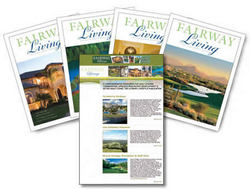 Wilmington, NC (PRWEB) April 16, 2008
As one of the nation's leading resources for information on upscale golf course communities and real estate developments, Fairway Living Magazine is quickly becoming one of the most sought after publications in print today. Occupying a position in an industry that requires increased attention in a time of economic variance, Fairway Living is intrepidly responding to the ever changing needs of the real estate market.
In a recent effort designed to enhance the marketing objectives of clients and provide targeted editorial coverage for readers, Fairway Living will begin publishing regional Eastern and Western editions of the magazine, beginning in June of 2008.
This exciting change will further solidify Fairway Living's position in the industry as the true information resource for those individuals interested in relocation or second home ownership at high end golf communities and resort style golf real estate developments across the country. The transformation will also provide increased advertorial opportunities and a more highly targeted audience of those individuals searching to make upscale real estate investments.
Both magazines will feature properties from various states, combining stories that are of common interest across the country, along with regionally focused information and editorial coverage. Both editions will be published three times a year, in the spring, summer and fall. An Annual Community Directory, scheduled to release in the winter, will feature properties from multiple locations and be delivered to subscribers of both the Eastern and Western editions.
The magazines will continue to be distributed in key target markets across the North, South, East and West. Emphasis will be directed to areas where research and surveys have proven that individuals are most interested in relocation, as well as relocation hot spots such as Florida, North Carolina, South Carolina, Arizona, California, Georgia and Texas; just to name a few.
So, whether you are looking for a gated golf course community in Colorado or an upscale retirement niche in Naples, Florida, Fairway Living golf course homes magazine offers just the resource to help you find the perfect place to call home. Plus, with heavily concentrated distribution in homes, communities and newsstands across the United States, Mexico and Canada, advertisers can feel confident that they are reaching a highly targeted audience of affluent individuals actively seeking luxury products and real estate endeavors.
For more information on Fairway Living, please visit the website at http://www.fairwayliving.com or call 910-791-3933. Written inquiries and subscription requests can be sent to 3804 Peachtree Ave. Suite 210 Wilmington, NC 28403.
###