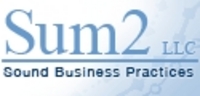 We are very pleased to offer a tool to help managers deal with the economic challenges confronting small businesses
Little Ferry, NJ (PRWEB) April 28, 2008
Sum2, LLC is announcing the immediate release of free and open access to the Profit|Optimizer macroeconomic risk test. The Profit|Optimizer macroeconomic test is available for download from the company website sum2.com.
The Profit|Optimizer macroeconomic risk test enables small business managers to measure risk factors that are tied to the current economic situation. The test helps small business managers initiate action plans that deal with business threats and to identify opportunities that emerge during times of economic distress. The test is located at the bottom of the Sum2's Risk Testing website page.
Recession Impacts Small Businesses
"We are very pleased to offer a tool to help managers deal with the economic challenges confronting small businesses," stated James B. McCallum, President of Sum2. "The pain that contractors and suppliers to the housing market have been experiencing for the past few quarters is now spreading to all business segments. Merchants, distributors, entertainment establishments, non-profit organizations, service providers and small manufacturers are all feeling the negative effects of the slowing economy. The availability of credit, inflationary pressures and the erosion of consumer buying power are particularly troubling developments affecting small and mid-size businesses. These macroeconomic risk factors are negatively impacting the growth and profitability of all business sectors."
Profit|Optimizer Product Series
Sum2 is releasing the macroeconomic risk module from the Profit|Optimizer Test to introduce the companies recently released Profit|Optimizer product series. The goal of the Profit|Optimizer series is to provide small and mid-size businesses with easy to use and affordable business management tools. The Profit|Optimizer is a highly effective opportunity discovery and risk management tool. It helps small businesses achieve goals, manage growth and enhance profitability. The Profit|Optimizer walks a small business manager through a risk review incorporating over 100 enterprise risk assessments.
Objectives of the Profit|Optimizer
The Profit|Optimizer is an MS Excel™ based application that gives managers assessment and opportunity discovery tools that address three critical areas of small business management. Those three critical areas include:
a) Company Products: assesses products, clients, supply chain, competition and market dynamics of the business.
b) Business Functions: assesses seven business functions that include; Management, Sales and Marketing, Operations, Facilities, Human Resources, Information Management and Accounting.
c) Critical Success Factors: a review of Critical Success Factors to determine and maintain competitive superiority, managed growth and profitability.
Once these sections have been completed by managers a series of dashboards are created. The dashboards help small business mangers visualize its risk management program to better govern, prioritize, monetize and manage business development initiatives. The dashboards allow small business managers to set priorities in their action plans, determine ROI of business initiatives and monitor the progress and completeness of risk mitigation and business development initiatives. The stand alone Profit|Optimizer product sells for $75.00.
The Profit|Optimizer Test is a subset of the Profit|Optimizer. It includes the complete scoring templates of the seven critical business functions that offers 75 enterprise risk assessments. It retails for $19.95.
The Profit|Optimizer is an MS Windows™ based application that includes pre-formatted templates to score and assess business risk and readiness factors that are unique and germane to small and mid size businesses. Sum2's products can be purchased on the company's secure e-commerce site or on amazon.com.
Small Business Service Providers
Sum2 works with banks, CPA's, insurance brokers and other industry service providers to distribute its risk management products to the extensive small mid-size business market. Sum2 encourages industry service providers to distribute the Profit |Optimizer macroeconomic test to clients and prospects as long as company trademarks and product attribution is protected.
About Sum2, LLC:
Founded in 2002, Sum2 is dedicated to the commercial application of sound practices. Sum2's sound practices program includes corporate governance, risk management, stakeholder communications and regulatory compliance. Sum2 believes that all corporate enterprises build equity value by implementing a sound practice program. Sound practices are principal value drivers for corporate and product brands. Practitioners are awarded with healthy profit margins, attraction of high end clientèle, enterprise risk mitigation and premium equity valuation.
Sum2 welcomes the opportunity to speak with you to demonstrate how the Profit|Optimizer products and implementation of sound practices can differentiate your business and create value for your product brands and company stakeholders.
###