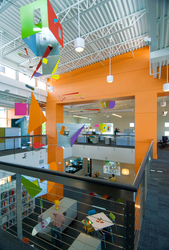 Art intersecting with and inspiring daily life is what my works are about
Fort Collins, Colo. (PRWEB) April 24, 2008
Colorado artist Mel Ristau announces the completed installation of two monumental hanging kinetic sculptures. The works of art represent the culmination of more than two years of design and construction for Ristau and are on permanent display in Texas and Florida.
On February 27, Ristau completed the installation of "AirPlay 11" for Children's Medical Center Legacy in Plano, Texas which opened its doors April 7, 2008. He collaborated with Robert F. Doane, AIA, ACHA, Senior Vice President of PageSoutherlandPage Dallas; Kathy Harper, RN, MBA; and Gena English, RID, AAHID, TAID of Children's Medical Center Dallas in the development of AirPlay 11. This playful, kinetic aerial sculpture drops more than 25 feet and quietly drifts and turns within a 30 foot area of the hospital's lobby. The mobile is composed of painted and unpainted stainless steel, aluminum and translucent polycarbonate.
On March 30, Ristau installed "Possibilities of Place" for Walker Brands offices in Tampa, Fla. Walker Brands teamed with BECK Group Tampa to develop Tampa's first LEED certified and award winning "green" building. As the primary interior feature, Ristau's work hangs in six cohesive sections that flow 30 feet through the open core of Walker Brand's new two-story facility. His kinetic work is at play with abstractions of place, navigation, environment and living--design concerns of the firm's clients. Additionally, the sculpture functions as a component of Walker Brands' own branding and demonstrates the Possibilities of Place.
"Art intersecting with and inspiring daily life is what my works are about," said Ristau, commenting on his recent work. "I design aerial sculptures that animate large interior spaces with color and whimsy - creating smiles and therapeutic destinations for children as well as adults. My sculptures are fun to both plan and build. The affect of this favorable process becomes part of each work and ultimately infuses it's intended space with the same positive spirit."
About Mel Ristau
Working from his studio in northern Colorado, Ristau has been building kinetic sculpture since 2003. Many lobbies and atriums of healthcare, museum, school, and corporate facilities from coast to coast offer public venues for Ristau's sculpture. His largest and most complex work to date--"River Garden 1"--spanning 50 feet was installed in the lobby of the Children's Hospital of Atlanta / Scottish Rite in 2006. Ristau, who is originally from Lafayette, La., moved from Dallas, Texas, to Fort Collins, Colo., in early 2002 to pursue his lifelong interest in designing and building large-scale kinetic sculpture. Prior to that, he was a successful visual communications designer and co-developer of small scale robotic modeling technologies used throughout the U.S. in the 1990's to enhance communication, systems thinking, teamwork and creative problem solving skills.
###