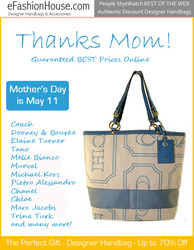 It's not only fashionistas that want the latest designer handbag all the time, today's mom is very hip and wants to carry a nice leather handbag as well
Sky Valley, CA (PRWEB) April 25, 2008
Gone are the days where shopping for mom meant a pretty floral arrangement or a box of her favorite chocolate. Today's moms are more interested in trendy or classic designer handbags, so eFashionHouse.com is making shopping for mom a little easier with free shipping for Mother's Day (May 11).
Named Best of the Web by People StyleWatch for below retail priced designer handbags and recognized by About.com as the top of three online retailers of off-priced Chanel, eFashionHouse.com has all the designers and styles moms want. From handbag darling Elaine Turner, to couture legend Chanel, to American staple Coach, eFashionHouse.com offers the latest in designer handbags for all budgets.
"It's not only fashionistas that want the latest designer handbag all the time, today's mom is very hip and wants to carry a nice leather handbag as well" said Anna Miller, eFashionHouse Owner. "To meet the needs of our clients, we now carry handbags that are age-friendly…meaning most of the designers we carry cater to women of all ages who simply love fashion."
Not only does eFashionHouse.com, and its five fashion ecommerce stores (BrandsBoutique, LuxuryVintage, DesignersLA, ItalysOutlet and ValueBags), offer a wide variety of authentic designer handbags but they guarantee the lowest prices online for Tano, Melie Bianco, Murval, Elaine Turner and Pietro Alessandro. Plus the site offers a layaway plan that allows its clients to pay over time and still get the bag of their dreams.
If you still don't know what to get mom, here's a couple of hot selling bags that are sure to make her smile (and maybe even giggle with glee):

COACH Hamptons Cream Large Tote - 26% off
ELAINE TURNER Andie Platinum Distressed Leather Satchel - 24% off
Tano Bauhaus Leather Tote - 21% off
Gucci Brit Medium Tote in Brown - 26% off
Yves Saint Laurent Downtown Tote in Cream - 21% off
Vintage Chanel Quilted Lambskin Shoulder Bag - only $499
In addition to huge savings on brand new, 100% authentic designer handbags, shoppers will receive free ground shipping from April 24th thru May 2nd on purchase over $100 with coupon code MD08. Plus there is no sales tax on all purchases worldwide.
About eFashionHouse.com
Anna Miller is the President of i-GlobalMall.com, Inc. She operates the website http://www.efashionhouse.com/ and sells high-end authentic designer handbags and accessories at off-retail prices. EFashionHouse.com was named Best of the Web by People Magazine StyleWatch for Discount Designer Handbags and Purses. eFashionHouse.com should not be confused with any other website selling a similar product or using a similar name. EfashionHouse.com is the home of five fashion ecommerce stores: BrandsBoutique, LuxuryVintage, DesignersLA, ItalysOutlet, and ValueBags. Anna is considered an Internet Pioneer & Ecommerce Entrepreneur. She's been reselling Designer Merchandise online since the early 90s. eFashionHouse.com has an extensive Press Page and a Fashion Blog Network. Visit the site for more details.
###