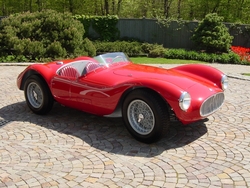 New York (PRWEB) April 28, 2008
After visiting Vienna, Geneva, London, Munich and Moscow, the 1000 Miglia car race will be showcased in New York City on Wednesday, April 30, 7:00 p.m. at the elegant Morgan Library and Museum, 225 Madison Avenue, to be followed by an all-Italian gala dinner.
The organizing committee, Chairman Alessandro Casali and General Secretary Sandro Binelli, will introduce to the selected audience the rich history of 1000 Miglia, considered one of the greatest motoring events in the world. The race began in Italy in 1927 and continues 81 years later as the Mille Miglia Car Rally. Suspended by the Italian Government in 1957 after a serious accident, the 1000 Miglia re-opened twenty years later as a historic competition with new rules and a speed limit of 50 km (35 miles) per hour. This glamorous race started the careers of legends like Tazio Nuvolari, Alberto Ascari, Manuel Fangio, Stirling Moss -who set the world record in 1955 - George Stewart and Arlan Schwartz. In 1977 it was revived again as the 1000 Miglia Storica - historic 1,000 mile parade - reserved for cars from the golden age of racing (1927 -1957), including beautiful vehicles such as Bugatti, Lancia, Alfa Romeo, Aston Martin, Ferrari, Maserati, Jaguar and pre-war Mercedes and Porsches. Casali and Binelli's goals are to rejuvenate, with enthusiasm and energy, the race's historic characteristics and to highlight the beautiful route it takes: the city of Brescia, its starting point, Verona, Ferrara, Ravenna, Urbino, Assisi, Rome and then Siena, Florence and Bologna.
New York is an important stop for the 1000 Miglia Road Show because the United States, like Italy, has a long history of motor sports, great drivers and a passion for cars, in particular for historic cars. Throughout the evening guests will experience the Italian lifestyle and culture beginning with an audio-visual presentation of the most exciting moments of the past and present 1000 Miglia. A perspective of its future will be enjoyed amidst cocktails, followed by a concert of Italian arias performed by Italy's prestigious Arena di Verona Singers. After the show, guests will be treated to a complimentary sumptuous gala dinner featuring all-Italian delicacies. Invitees for the soiree include some of the most prestigious businesspersons and interesting figures in the field of classic cars.
The evening is a private event by invitation only with limited seating. Media people are welcomed. Please respond if you are interested in attending or in interviewing the 1000 miglia Organizing Committee. Cocktail attire is suggested. For more information or if you would like to arrange an interview with Mr. Binelli and Mr. Casali, please feel free to contact Angela Crawford or Daniela Puglielli at 908 212 7846, by email at 1000miglia @ accentpr.com or Laura Aprati at +39 335298071 (l.aprati @ gruppomeet.com) or Cristina Coppi at +39.334.6764211 (c.coppi @ gruppomeet.it)
###