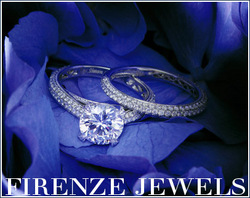 New York, NY (PRWEB) April 30, 2008
Firenze Jewels is proud to announce the launch of "The Top Drawer," a Jewelry Blog with news, advice, photography, and insights on the lighter side of jewelry's place in society. The Blog will not be like an offline product sales catalog. Users of what is now a "social" Web want to see dynamic websites that update with more than product information.
Gabrielle Guzman, Director of e-Commerce for Firenze Jewels says: "There are many bloggers dedicated to writing about jewelry and they have a large following. With 70 years in the jewelry business, we know what costumers consider as they make major buying decisions about diamond engagement rings, antique wedding rings, and other hand made jewelry: we have a lot to add to the online conversation."
The blog will be syndicated with all the largest news aggregators on the web. Interested readers can subscribe to "The Top Drawer" from the blog and have feeds of each post sent to their news reader software. We look forward to providing more transparency through The Top Shelf with respect to who we are and how we make decisions about what is put on our website.
The Top Shelf will share important news about Firenze Jewels, especially when it is breaking news. Offline, we are well known for our terrific value and service, and our business is heavily based on repeat costumers. The blog is a further step in building value and service online. Our offline store has continued to learn about its costumers for over 70 years. Our online store had the same mission since launched in 1999-- a long time in Web history.
About Firenze Jewels
Firenze features the world's top designers, an extensive collection of G.I.A. certified diamonds and the most elegant and sophisticated jewelry. Firenze Jewels is located in the heart of the Manhattan Diamond District. Its staff, which includes talented designers as well as a graduate gemologist from the renowned GIA (Gemological Institute of America), collectively brings decades of knowledge and expertise to ensure every shopping experience is a positive one.
Editor's Note: to speak with representatives from Firenze Jewels, please contact Gabrielle Guzman at (800) 790-6980 or info @ firenzejewels.com.
###