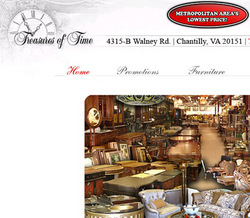 We offer an array of inventory that changes weekly and that we can deliver within a week. There is no waiting time of 12 weeks to 6 months found at other places
(PRWEB) May 6, 2008
With the current shift to a buyers' market, homeowners are now joining the latest trend of home staging, or furnishing homes to sell more quickly. Homeowners hire professional stagers or do the work themselves of making a house look bigger, brighter and warmer. Now they can take advantage of the expanded inventory at Treasures of Time, a warehouse of hard-to-find discount quality furniture, including Maitland-Smith cocktail tables, Metropolitan lighting, and NDI floral reproductions. Home stagers can view the furnishings at TreasureofTime.com and visit the 40,000 square foot warehouse in Virginia, where items can be purchased and delivered immediately.
"We offer an array of inventory that changes weekly and that we can deliver within a week. There is no waiting time of 12 weeks to 6 months found at other places," explains owner Lana Nguyen.
The unique furniture store Treasures of Time carries and continually updates its inventory with items from respected manufacturers including Maitland-Smith, La Barge, AICO, Philippe Langdon, Compositions, Magnussen, Stein World, Metropolitan lighting, and NDI. Also available are 18th century antiques, reproductions, oil paintings, hand-painted modern classic furniture, and much more. The 40,000 square foot warehouse of discount quality furniture is located in Chantilly, Virginia, west of Washington D.C., and customers can visit Tuesday through Sunday from 9:30 am - 5:00 pm.
Owner Lana Nguyen describes the benefits of shopping in person at the Treasures of Time warehouse:
"We offer 'instant gratification' and the reassurance that comes from buying what you have been able to see, feel, and touch before paying for it. There aren't the surprises that can come from ordering from catalogs."
Those who wish to see the unique furniture store inventory in advance are invited to visit the easy-to-navigate website TreasureofTime.com. Visitors can view the current inventory and promotions, and they can sign up for the mailing list that provides monthly updates on special event items and promotions.
New arrivals are showcased on the site. Currently, vanities, a new selection of Ridgeway grandfather clocks, and the Murano Collection are featured on. Recent sale promotions that may be helpful for homeowners and home-stagers alike include 50% off on composition upholstery, 50-75% off all LamLee furniture, and 50% off all Ridgeway Grandfather Clocks.
To view the Treasures of Time inventory, please visit TreasureofTime.com.
About Treasures of Time:
The 40,000 square foot warehouse in Chantilly Virginia is owned by Lana Nguyen, who is a former Assistant Buyer for Neiman Marcus, Associate Buyer for Bloomingdale's and Buyer for Garfinckels. She and the Treasures of Time staff provide a warehouse full of designer brand names and more imported from all over the world and sold at warehouse prices. Shoppers of this unique furniture store can explore the inventory online and visit the warehouse six days a week.
###