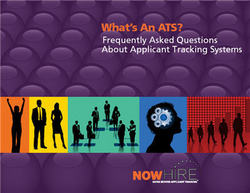 software application designed to help an organization recruit, filter, sort, access, hire and track applicants more efficiently.
Detroit, Mich. (PRWEB) May 20, 2008
nowHIRE.com, recognizing common confusion among prime markets for application tracking systems, is offering a free download defining the technology and its application.
The paper titled What's an ATS? Frequently Asked Questions About Applicant Tracking Systems defines the benefits of automating recruiting and hiring processes. The generic paper is especially helpful for vertical markets with heavy hiring volumes and turnover. Such markets are increasingly recognizing the need to automate, but need guidance on the options available and associated terms.
For instance, the document provides a basic definition of an ATS as a "software application designed to help an organization recruit, filter, sort, access, hire and track applicants more efficiently." Most large companies and 50 percent of mid-size companies use an applicant tracking system of some kind, replacing home-grown spreadsheets and log books.
Still, there remains lack of urgency, interest, education and exposure within markets with volume hiring and retention issues - such as retail and hospitality - that could benefit from automation in tracking applicants as well as ongoing management of their talent. In fact, with such extensive features, many HR professionals refer to their ATS as a talent management or hiring management system.
These markets of high turnover can use an ATS to integrate recruiting channel (stores, distribution centers, corporate)--career sites, online job boards, assessments, background checks, WOTC and more--with various employee information. Research indicates such online recruiting methods can reduce the cost-per-hire by 80 percent. Combining this with the ATS' ability to collect and house such information as test scores, completed training and job reviews, provides the company to cost savings as well as a clearer picture of each employee's performance and potential.
The ATS overview also describes the ability of the ATS to provide companies consistent and legally defensible processes for hiring and managing employee, a ready source of candidates for open positions within the company and strategic business intelligence through customizable reports.
Complementing the ATS information paper, nowHIRE has a white paper available for free download, "Going Beyond Applicant Tracking - Best Practices in Talent Management: Factors in ATS Selection" available at http://www.nowhire.com/WhitePapers_Research.htm. The webinar, "Best Practices in ATS Selection," is available at http://www.nowhire.com/webcasts.html.
About nowHIRE:
Since 1998, nowHIRE has been a premier provider of applicant tracking systems for companies of every size within diverse vertical markets. Their industry-defining solutions feature fully integrated, Web-based recruiting and applicant tracking software modules. Companies are able to configure the software to their specific recruiting needs--whether it be for hourly, salaried, internal or contingent employees, or any combination thereof. nowHIRE's solutions give clients what they call "Zoom"--the competitive edge.
Media Contact:
Joseph N Impastato II
586-778-8491 (15)
Joseph.Impastato(at)nowHIRE.com
Gail DeLano
Fisher Vista, LLC / HRmarketer.com
831-685-9700
Gdelano(at)fishervista.com
Adriana Saldana
Fisher Vista, LLC / HRmarketer.com
831-685-9700
asaldana(at)hrmarketer.com
This press release was distributed through eMediawire by Human Resources Marketer (HR Marketer: http://www.HRmarketer.com) on behalf of the company listed above.
###