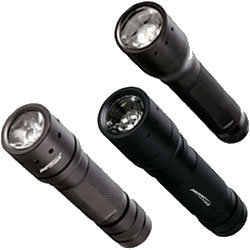 LED Lenser is a name people trust for quality outdoor lighting equipment
Portland, Oregon (PRWEB) May 20, 2008
LightsAndKnives.com, the Portland, Oregon-based online retailer of discount LED lights and outdoor knives, will have the LED Lenser High Performance line of professional flashlights and headlamps available for online retail sale starting May 20th, 2008. LED Lenser HP tactical flashlights are built for use by law enforcement personnel, fire and rescue crews, military personnel and industrial workers. These products are now being offered to the general public for use as well.
"LED Lenser is a name people trust for quality outdoor lighting equipment," stated Rob Willhite, Business Development Manager of DLK at LightsAndKnives.Com. "We are glad we can start to offer their new high performance line of products in time for the campers and hunters to get their hands on and use them this upcoming outdoors season."
LED Lenser uses durable German engineered construction and innovative LED technology to create its high performance product line. Many of the new torches feature one-handed speed focus capabilities, LED Lenser's patented LED reflector systems, and a new patent-pending Quick-Cycle Switch System.
"Professionals need versatility and convenience built into their equipment," explained Willhite. "The Quick-Cycle Switch gives the holder multiple lighting options in one hand-held flashlight. Three lighting output levels can be achieved -- a low-beam, a high-beam and a max-beam -- with just a click of a button."
The LED Lenser High Performance line was announced in February 2008 at the SHOT Show in Las Vegas, Nevada. The same month, LightsAndKnives.com announced they would be carrying the complete line of products when they became available.
Products available online May 20 will include the LED Lenser HP8407 P7 torch and HP8420 T7. The P7 focusable light is targeted toward police officer use. The light produces 167 lumens and has a battery life of 130 continuous hours. They will retail at $120.00. The T7 tactical light has the same brightness and power as the P7 and includes the LED Lenser speed-focus capabilities. They will retail for $130.00. The LED Lenser 7731STB strobing light and 7733STB add-on strobing accessory are already available for purchase on the lightsandknives.com site.
LightsAndKnives.com will offer the full line of over 18 LED Lenser HP products to its online retail customers as they become available. Pre-orders are being taken now for the LED Lenser HP products online and free shipping will be offered for orders over $100.00.
LightsAndKnives.com offers an assortment of LED light products and accessories including camping lanterns, headlamps, hunting lights, fishing equipment, and home lighting lamps and bulbs. The addition of high performance flashlights is seen as a natural progression in their product offerings.
"More and more, hunters and other outdoorsmen and women are finding they need better, more powerful equipment. The LED Lenser line offers that kind of a product to everyone," said Willhite.
About LightsAndKnives.Com
LightsAndKnives.Com is a leading online retailer of discount LED lights and knives. Based in Portland, Oregon, the company offers LED lighting options for general, professional, tactical, and outdoors use. Columbia sporting gear, whimsical Moppels, home lighting products, and kitchen cutlery are just a few of the many products sold by the retailer.
For more information about LightsAndKnives.Com, please contact Rob Willhite at (800) 964-3901.
Contact Info:
Rob Willhite, Business Development Manager of DLK
LightsAndKnives.Com
Portland, OR 97208
Phone: (800) 964-3901
Email: rob@lightsandknives.com
Web: http://www.lightsandknives.com
# # #