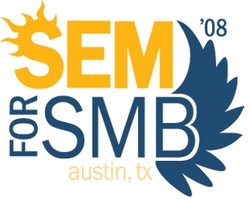 Search-engine marketing has a measurable affect on the balance sheet, but only if the tools, process and return are understood by all business stakeholders.
Austin, TX (PRWEB) May 22, 2008
The search engine marketing needs of small- and medium-sized businesses will be discussed at an international conference being held in Austin, Texas on July 16th and 17th, 2008. The SEM for SMB conference will create opportunities to stimulate economic growth for a critical segment of the U.S. economy. In prescriptive group and one-on-one sessions with SEO and SEM experts, conference attendees will learn how to make better choices in their online marketing efforts.
The conference originated and was designed based on extensive interviews with owners of small- and medium-sized businesses. Relevant and educational presentations will provide technical and non-technical attendees with marketing strategies and tools that they can apply immediately. Speakers have been specifically selected based on their industry experience. Presentations will not include sales pitches and focus purely on online marketing strategy, terminology and business decision making.
"Small and medium businesses are the fuel of the search-engine economy. Unfortunately, businesses are being preyed upon to invest in search engine marketing. Results aren't always guaranteed and the investment can be significant," says Christopher Justice, co-founder of SEO for SMB. "Search-engine marketing has a measurable affect on the balance sheet, but only if the tools, process and return are understood by all business stakeholders."
The conference will serve the needs of:

Established SMBs, nonprofits and government organizations looking to improve and grow online
New businesses that want to learn online marketing strategies and minimize their risks when marketing online
Professionals who are interested in becoming self-sufficient with search-engine marketing
Entrepreneurs looking for global and regional visibility through the Internet
Held at the Hilton in downtown Austin, the event will introduce innovative approaches to the traditional conference formula. To make the conference accessible to a larger audience, registration is affordable and meals will be provided. A private, online collaboration system, will also allow attendees to directly communicate with speakers, sponsors and organizers and view videotaped presentations online.
The conference is sponsored by Sparksight, GetPageOne, Spoonbend, Wildwood Interactive and Envision Creative. Additional sponsor announcements are pending and participation from additional speakers and sponsors will remain open until July 1, 2008.
For more information, visit the SEMforSMB Conference Website.
About SEO for SMB 2008
SEO for SMB is aimed at small-to-medium-sized businesses--throughout the world and at all stages of growth--that depend on public websites, local advertising and search engines for visibility. Conference participants will receive highly targeted presentations with no sales pitches. Speakers have been carefully selected for their style, expertise and practical experience with search engine optimization, search engine marketing, pay-per-click advertising and copywriting.
About Sparksight
Sparksight offers interactive marketing and event management services that help organizations deliver compelling experiences online and in-person. Sparksight uniquely expands the reach of event planners to deliver online events that leverage unclaimed assets surrounding conferences and provides comprehensive production facilities to broadcast audio/video from sessions for instructional or commercial purposes. Sparksight employs the most talented and inventive graphic designers, videographers, web programmers and writers in the industry.
# # #