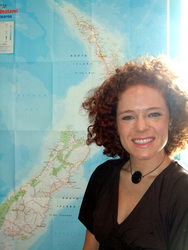 The Maori culture in New Zealand is just breathtaking
Denver, Colo. (PRWEB) May 22, 2008
A 24-year-old Florida woman inspired to pursue a career in international education after studying abroad in New Zealand is the 2008 Future International Educator/Alumni of the Year, an award presented annually to one outstanding participant of the AustraLearn / AsiaLearn / EuroLearn study abroad programs.
Michelle "Shelly" Jackson, a South Florida resident and graduate of Furman University in Greenville, S.C., who studied abroad at Victoria University of Wellington, New Zealand, was chosen to receive the award by the AustraLearn's International Council.
As part of the award, AustraLearn is providing Jackson airfare, lodging and registration for the NAFSA 2008 Annual Conference & Expo May 25-30 in Washington, D.C. The 60th annual conference is the world's largest gathering of professionals in international education and exchange, drawing more than 8,000 participants from 100 countries.
The field of international education encompasses a variety of careers geared toward the development and support of international experiences for students in the United States and overseas. These jobs draw from a wide range of backgrounds to include college and university professionals developing and evaluating programs, employees and overseas staff of program providers, government employees, researchers, and related service providers, among others.
"Many students return from studying abroad with a much more worldly perspective, but only a small segment come home determined to make international education the focus of their budding careers," said Cynthia Banks, executive director and founder of the Westminster, Colo.-based AustraLearn / AsiaLearn / EuroLearn, a leading provider of study abroad programs to Australia, New Zealand, the South Pacific, Asia and Europe.
"The goal of this award is to encourage and support the next generation of international educators," Banks said. "We feel Shelly epitomizes just what this award strives to promote."
Award applicants must first complete AustraLearn's enCompass program, a series of activities for AustraLearn program alumni to reflect and share their study abroad experiences with others, and then write an essay about their overseas experience and why they want to work in the field of international education.
In Jackson's essay, she wrote of her strong desire to actually live in New Zealand during her 2005 semester of study, rather than just be a visitor to the country.
"I don't look at traveling as a holiday or a trip," said Jackson, of Lake Worth, Fla. "I look at it as a learning experience and a way to understand the world better. I don't think that's something you can get out of your system. It's a part of me."
During her time in New Zealand, Jackson went beyond classroom exercises and tourist excursions to seek out a job shadowing experience at Museum of New Zealand Te Papa Tongarewa, a national museum in Wellington.
"The Maori culture in New Zealand is just breathtaking," Jackson said. "It's a very rich, textured and layered culture. They have so many stories and legends, wonderful art work, dances and food, and it's so intertwined in Kiwi culture now, fortunately."
After studying in New Zealand, Jackson returned to Furman University and in 2006 completed her bachelor's degree in history. She then taught English in rural schools in France and worked in Washington, D.C., for a national youth leadership conference before returning to her native Florida to explore options for master's programs in international education.
During the NAFSA conference, Jackson will be recognized at the annual AustraLearn Affiliate Advisor Luncheon, shadow experienced AustraLearn staff, network with international education professionals, assist in AustraLearn's exhibition booth and take on a potential project.
"I was astounded to read that only one percent of American students study abroad," Jackson wrote in her essay. "By providing students of all ages and from every demographic with the opportunity to learn and interact with people from other nations via the Internet and cultural field trips, we can spark their desire to go abroad and explore."
Jackson is the second recipient of the Future International Educator/Alumni of the Year Award. Last year's winner was Kelsey McNichols.
Jackson plans to take advantage of the many resources available during the conference to learn about the growing possibilities in international education.
"My motto in life is: The world is your classroom, learn something," Jackson said. "I think I'm going to be a student forever."
About AustraLearn / AsiaLearn / EuroLearn (Educational Programs of GlobaLinks):
AustraLearn / AsiaLearn / EuroLearn (Educational Programs of GlobaLinks) provides year-long, semester and other specialized study abroad programs to destinations across the globe. Based outside Denver in Westminster, Colo., AustraLearn / AsiaLearn / EuroLearn has sent more than 18,000 students from the United States and Canada to study abroad since its founding in 1990.
As the leading provider of study abroad programs to Australia, New Zealand and the South Pacific, AustraLearn sends 3,000 students overseas annually to 35 universities. In 2007, AustraLearn launched sister organizations AsiaLearn, a provider of programs in China, Hong Kong, Japan, Malaysia, Singapore and South Korea, and EuroLearn, now developing programs in mainland Europe and the United Kingdom.
For more information, visit http://www.AustraLearn.org, http://www.AsiaLearn.org or http://www.EuroLearn.org.
###