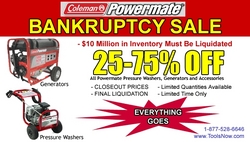 We are extremely pleased to have acquired a large inventory of Coleman Powermate generators and pressure washers. This allows us to pass along savings to our customers
Spring Hill, KS (PRWEB) June 6, 2008
Online discount tool retailer ToolsNow.com announced today that it has acquired $10 million in generator and pressure washer inventory from Coleman Powermate, which filed for bankruptcy in March.
Tools Now is in the process of listing pictures, prices and item descriptions of the newly acquired inventory and will promote the Coleman Powermate Bankruptcy Liquidation Sale through its online and eBay stores.
"We are extremely pleased to have acquired a large inventory of Coleman Powermate generators and pressure washers. This allows us to pass along savings to our customers," says Bob Cummins CEO TAP Enterprises.
Coleman Powermate an Auroa, Illinois-based company, filed for bankruptcy in March 2008, due to a debt between $50 million to $100 million owed to creditors and suppliers.
"We're working diligently to get these Powermate generators listed as soon as possible as demand is big right now with electrical blackouts continuing during this record high storm season," Cummins continues. "The pressure washers are always hot selling items for spring and summer clean up projects for home owners."
ToolsNow.com is known for its closeout tool sales and inventory liquidation sales online and through its nationwide traveling truckload sales. Since 1977, Tools Now has been a leading distributor of discount power tools, hand tools, automotive tools, woodworking tools and reconditioned tools including the best selling Coleman Powermate 2400 PSI 5.5HP Pressure Washer throughout the United States and offers discount tools from the biggest brands in the power tools industry such as DeWalt, Milwaukee, Ridgid, Ryobi, Homelite, and more.
About ToolsNow
For more than 30 years, ToolsNow.com has been a leading manufacturer and distributor of quality discount tools providing do-it-yourselfers and professional contractors affordable prices, excellence in service, quality, and customer satisfaction through its website, 11 local retail stores and traveling truckload tool sales throughout the 48 continental United States. To learn more about Tools Now, visit http://www.toolsnow.com or http://www.tapent.com
# # #