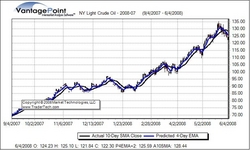 Investors in many markets should be extra cautious heading into this hurricane season
Wesley Chapel, FL (PRWEB) June 9, 2008
June 1st marked the official start of the 2008 hurricane season, and if the experts are correct, this season will be somewhat more stormy than the last two seasons and could contribute to the price headaches already endured by consumers everywhere this year.
The renowned hurricane forecast team at Colorado State University is calling for 15 named storms forming in the Atlantic basin during this year's hurricane season. Eight of the storms are expected to become hurricanes, with four becoming intense hurricanes with sustained winds of 111 mph or greater.
"Conditions in the tropical Atlantic look quite favorable for an active hurricane season," said Phil Klotzbach of the Colorado State hurricane forecast team and the lead author of the forecast. The hurricane forecast team predicts tropical cyclone activity in 2008 will be 160 percent of the average season.
If the busy 2008 hurricane season predicted by experts actually plays out, the major storms could have a dramatic effect on global markets, many of which have already experienced record high prices and wild volatility this year and would be even more vulnerable to a U.S. hurricane scare, said Jim Wyckoff, senior market analyst with http://www.TraderEducation.com
Wyckoff says the potential overall impact from any major hurricanes striking U.S. soil is best summed up by the word "Hurricaneomics®," a term coined by Lou Mendelsohn (http://www.tradertech.com), developer of technical analysis software, to describe the study of the diverse economic effects exerted by hurricanes on global financial and commodity markets. Mendelsohn suggests that a major hurricane or other similar natural disaster creates a domino-like effect on today's interrelated markets that spreads to areas and people far removed from the hurricane's actual path.
Wyckoff believes the first direct impact of any major hurricane in the Gulf of Mexico would be on the energy futures markets, with natural gas the first to feel the impact, followed by crude oil.
"Any activity that involves heating, cooling or shipping by air, rail or truck will get more expensive, affecting consumer costs for all kinds of products all over the country," said Wyckoff. He added that with food and energy inflation already having accelerated in recent months, any major hurricane striking the U.S. mainland would add inflationary insult to injury and make markets even more volatile.
One example of a "Hurricaneomic" effect is that a "super spike" in crude oil prices would make ethanol even more attractive as an alternative fuel, supporting higher demand and still-higher prices for corn and even sugar, major sources of ethanol. Higher corn prices also mean higher costs for livestock feed, resulting in higher consumer costs for meat and groceries.
Many key crops grown in the southern United States could be severely impacted by a major hurricane striking U.S. soil. These crops include cotton, sugar, corn, soybeans, citrus fruits and rice. Major poultry and livestock operations in the South could also be in the path of a big hurricane making U.S. landfall.
In addition, any hurricanes that do severe damage would require large amounts of lumber, concrete, copper and other rebuilding materials, which would have repercussions for prices paid by consumers throughout the country. Not only would prices of these commodities feel the impact of a major hurricane, but they could also have a major bearing on stock and financial markets and the health of the economy in general.
"Investors in many markets should be extra cautious heading into this hurricane season," said Wyckoff (http://www.tradingeducation.com), "especially with the inflationary fires already being stoked by record-high energy and other raw commodity market prices. Do not be lulled by last year's relatively docile hurricane season."
So just what are the chances that a hurricane could have this kind of effect on commodity prices and the economy this year? Here's how the hurricane forecast team sees the probabilities for a major hurricane making landfall on U.S. soil:

A 69 percent chance that at least one major hurricane will make landfall on the U.S. coastline in 2008 (the long-term average probability is 52 percent).
A 45 percent chance that a major hurricane will make landfall on the U.S. East Coast, including the Florida Peninsula (the long-term average is 31 percent).
A 44 percent chance that a major hurricane will make landfall on the Gulf Coast from the Florida Panhandle west to Brownsville, Texas (the long-term average is 30 percent).
The team also predicted above-average major hurricane landfall risk in the Caribbean.
About TradingEducation.com, LLC
TradingEducation.com LLC is a free online resource that informs and educates traders about current market conditions and trading strategies for stocks, commodities, bonds and currencies. The informational portal is updated daily and includes news and commentaries from a team of expert analysts. Insights about books, trading courses, and other information used to improve trading skills are also available.
For more information, please visit http://www.TraderEducation.com.
Media Contacts
Darla D. Tuttle
TradingEducation.com, LLC
813.973.3456
###