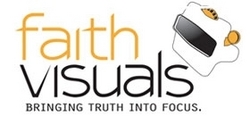 With these Bluefish worship videos, we feel like we're giving church leaders that opportunity.
Dallas, TX (PRWEB) June 10, 2008
Many church leaders across America are seeking various media tools to help them teach, preach, worship, and start discussions among those they serve in their ministry. Christianity Today's Faith Visuals has caught on to this movement and has decided to partner with Bluefish TV to provide $1.99 sermon illustrations on their site.
Similar to SermonSpice and Worship House Media, Faith Visuals is an aggregator of video clips for ministry leaders. They have chosen Bluefish TV's top 100 video illustrations for $1.99 to be featured on their site.
"We're excited to partner with Bluefish TV to provide low-cost, high-quality sermon illustrations on FaithVisuals.com. Our mission is to raise the level of visual media used in churches and make using video more feasible for them," says Cory Whitehead, Christianity Today's New Product Development and Marketing Specialist. "With these Bluefish worship videos, we feel like we're giving church leaders that opportunity."
Bluefish TV has been honored to work with Christianity Today and is excited about their new partnership in widening the doors to impact ministry leaders through the means of video.
Bluefish TV carries a wide variety of downloadable sermon illustrations ranging from humorous, dramatic, thought-provoking, real-life stories, seasonal and more. Bluefish TV's modern-day, teaching sermon illustrations include hosts, Erwin McManus, Louie Giglio, Beth Moore, Donald Miller, David Crowder, Margaret Feinberg and many more.
Explore Bluefish TV's growing collection of 700 sermon illustrations.
About Bluefish TV:
Bluefish TV is a non-profit Christian video ministry that has produced video sermon illustrations and small group Bible study resources for youth groups and pastors for over 25 years. Bluefish TV has worked with Christian leaders such as Erwin McManus, Louie Giglio, Donald Miller, Todd Phillips, Margaret Feinberg, Beth Moore, Doug Fields, Drs. Les and Leslie Parrott, Mercy Me, Chris Tomlin, David Crowder Jars of Clay and others to produce relevant resources for 93,000 churches across the country. Bluefish TV also has a passion and commitment to world missions and has participated in projects around the world to tell missionaries' stories of faith and sacrifice.
You can view full video previews and purchase each small group study and video illustration at http://www.bluefishtv.com. Some Bluefish TV resources can also be found in stores and on the websites of their ministry partners: LifeWay, Cokesbury, Mardels, Family Christian and Simply Youth Ministries.
Contact: Justin Forman
VP of Sales & Strategic Partnerships
Bluefish TV/RightNow Campaign
972.560.5600
http://www.bluefishtv.com
###