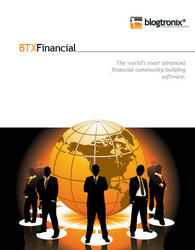 We are witnessing a large number of impressive deployments at some very large companies
Berkeley, Calif. (PRWEB) June 10, 2008
Blogtronix today announced the release of BTX Enterprise, a next-generation secure and robust high performance Social Media platform that integrates collaboration, knowledge sharing and innovation between business users, customers and partners. BTX Enterprise was built from the ground up and customized with specific components for three key markets - Financial, Enterprise, and Publishing.
Blogtronix is the only service provider that offers a single, unified media platform that includes blogs, wikis and social networking. Unlike first generation networking solutions, Blogtronix BTX Enterprise is easy to use, scalable and can be delivered either on-demand or as software. Rich features include video blogging, podcasting, flash as well as a fully customizable interface. These applications range from corporate in-house collaboration to global user-created networks.
"We are witnessing a large number of impressive deployments at some very large companies," said Blogtronix Founder and CEO Vassil Mladjov. "Our customers told us they required simplicity and versatility, coupled with enterprise-grade security and robustness. The BTX platform enables business users to more effectively support, streamline and manage their collaboration and communications activities while meeting corporate IT requirements of security, performance, deployment, and control."
BTX Enterprise boosts productivity within existing workflows and allows business users to do more than simple collaboration on projects: They can interact more creatively across geographies and business units through ExpertFinder, an advanced search tool. Users can access secure files and documents from any web browsers wherever they are, whenever they want, and on any device they prefer. All content is stored, recoverable, and audit trails provide a complete edit history log of platform-created content.
The core BTX Enterprise tools combine blogs, wikis, document management, RSS, and networking capabilities to help users communicate and collaborate more effectively. Optional tools can be deployed ad hoc or bundled at an initial cost. These options include LDAP integration, spreadsheets, workflows, compliance, video blogging, and advanced reports.
BTX Enterprise provides business users a number of key benefits:
BTX Enterprise allows

Groups: BTX Social Enterprise allows administrators to create an unlimited number of groups (communities) where users can share and collaborate. These groups can be open communities with thousands of users, or small secure workgroups with strict access control.
Group Blog: The blog is the discussion center of the platform that can be a threaded dialogue with comments, tags, and RSS notifications. Each group blog allows its members to post articles and share information.
Wiki: The wiki allows users to create and edit online content collaboratively. It is a space where multiple people can work together on projects and documents, maintaining full version control.
Advanced Search: The Smart Social Network with ExpertFinder™ allows users to find and connect by common profile traits including education, geographic location, department, and expertise.
Access Management: These tools control all user activity and permissions. Administrators can precisely manage security levels in accordance with corporate policy.
Rich Media Content: The blog and wiki can embed rich media content such as audio, video, and images. Users can quickly publish everything from on-the-spot interviews to PowerPoint presentations.
Enhanced Reporting: Multiple reports can be generated and/or exported to third-party applications. These are available online, or in spreadsheet form and include basic items such as log-in history, or more detailed information including full site usage history.
The fully modular interface can match the look and feel of your corporate identity. Editable language resource files allow you to customize platform terminology for industry-specific nomenclature or translate into different languages.
BTX is now available. For more information, visit http://www.blogtronix.com.
About Blogtronix
Blogtronix is a social media platform for Enterprise 2.0 communication. Blogtronix provides a single, unified system that includes blogs, wikis, and social networking. Unlike other companies, Blogtronix offers a product that's easy to use, scalable and can be delivered either on-demand or as software. The company's flagship product BTX Enterprise comes equipped with a rich feature set that includes vlogging, podcasting, flash as well as a fully customizable interface. Applications range from corporate in-house collaboration to global user created networks.
###