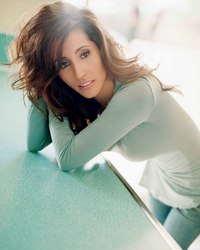 I'm so honored that the Air Guard has chosen me to represent them
Nashville, TN (PRWEB) June 11, 2008 -
Following an extensive search, Nashville country music recording artist Laura Bryna has been chosen as the voice of the new, multifaceted advertising campaign for the Air Guard.
The Air Guard (http://www.goang.com) is a branch of the military that has a state and federal mission to actively support the needs of the country and the nation's homeland defense. There are currently over 140 Air Guard bases in the United States.
As part of Bryna's involvement with the Air Guard, she will record a special song called "Hometown Heroes", which will be used in the campaign. Bryna will also be featured in an accompanying music video, appear in print ads and perform at a series of concerts throughout the summer.
Bryna was selected after the Air Guard conducted an exhaustive search for a voice and personality they felt would translate well to what their branding goals are. An Air Guard representative saw Bryna perform songs from her new CD, "Trying To Be Me", at a CD launch event in January.
"We are delighted to have Laura Bryna on our team," said Lt. Colonel Randy Johnson, Director of Recruiting and Retention for the Air Guard. "Her tremendous energy and her willingness to do what it takes to get things done exemplify the Air Guard Warrior spirit. It's a real privilege to work with her and we are excited to have Laura, Equity Records and her team as part of the Air Guard's advertising campaign."
"I'm so honored that the Air Guard has chosen me to represent them," said Bryna. "Like any good citizen, I want to do my part in serving our country and can't think of a better way than by helping to spread the good word and good works of the Air Guard.
I have the utmost respect for the men and women who serve our country. If I can play a part in helping bring awareness and support to their mission, then I've done my job."
A special kickoff concert for the campaign will be held early this summer in Washington, DC. The new song, "Hometown Heroes", will be added to Bryna's recently released debut album, "Trying To Be Me", as part of a second printing.
Bryna has been a longtime supporter of the men and women in uniform, and speaks often of their sacrifices when performing live. Her involvement with this new campaign affords her the opportunity to truly showcase that support.
"Equity Music Group and I are thrilled to be a part of this wonderful endeavor," said Roger Sarchet, manager for Bryna and producer of her new CD. "We feel it's mutually beneficial for both parties and we're excited to be a part of the Air Guard's campaign to bring more awareness to all the good they do when people need them most."
To learn more about Nashville's newest singing sensation, visit http://www.laurabryna.com or http://www.myspace.com/laurabryna.
Press/Marketing Contacts:
Los Angeles
Howard Ruben / HRPR
818.823.1971
hruben(at)howardruben.com
New York
Jill Lambert / HRPR
310.403.8592
jlambert(at)howardruben.com
###