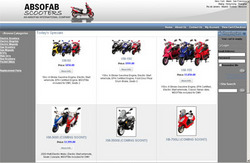 Our mission is to become the leading global provider of low-cost, high quality, super energy-efficient and exciting modes of transportation
Bonita Springs, FL (PRWEB) June 13, 2008
An online store is taking the recent fuel crisis by the handlebars, offering cash-strapped motorists welcome respite from the painful pinch at the pump. Florida-based ABSOFAB Scooters - which specializes in gas and electric mopeds and scooters, ATVs and bikes, and a variety of other gas vehicles and electric mobility vehicles - announces its grand opening, just in time to offer cost-conscious drivers fuel-sipping summer rides.
According to ABSOFAB Scooters President John Sekely, the company has given high priority to selling vehicles that are inexpensive to own and operate, but still ensure motorists a comfortable and safe daily commute. The Internet shop ABSOFABScooters.com lists a variety of products from high-powered gas mopeds and scooters like the popular XM-150 and XU-3000, right down to gas mopeds and cheap electric scooters for sale.
Sekely said ABSOFAB Scooters caters, in part, to riding enthusiasts of all ages who are looking for the fuel efficiency of gas scooters, but also the power of some of the new heavy-duty electric scooters. Other products rounding out the store inventory include mobility scooters, pocket bikes, sea scooters and an inventory of product replacement parts.
"Our mission is to become the leading global provider of low-cost, high quality, super energy-efficient and exciting modes of transportation," explained owner Sekely, an entrepreneur with experience heading companies in the automotive, aerospace, transportation and real estate industries. "We're already well-equipped to become a leader in providing consumers the best gas powered scooters, street legal electric scooters and super-high fuel efficient mopeds, scooters and electric vehicles."
Record fuel prices across the United States have compelled millions of drivers to seek alternative transportation, such as electric mopeds for highway travel or electric and gas scooters for tooling around town. The Toyota Prius, currently the most fuel-efficient automobile on the road, tops out at 48 miles per gallon (mpg) in city driving. Comparatively, the fuel economy of most typical motorized scooters starts at around 70 to 80 mpg and tops out well above the 110-mpg mark, making them attractive to motorists looking to cap their fuel costs.
ABSOFAB Scooters' future offerings include the XM-3500li electric moped from X-Treme Scooters, which can travel up to 75 miles on a single charge and hit speeds of up to 63 mph.
For more information about ABSOFAB Scooters, browse the store's Web site, ABSOFABScooters.com.
About ABSOFAB Scooters:
Florida-based ABSOFAB Scooters is an online retail store that sells a large selection of motorized vehicles, including electric motorized scooters, large gas scooters, pocket bikes, electric mopeds, electric bicycles, ATVs, sea scooters, dirt bikes and cheap electric scooters for sale at affordable prices. The company is an authorized dealer of X-Treme gas scooters for X-Treme Scooter Manufacturing, and ships all of its products factory direct.
###