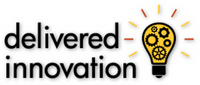 After experiencing the energy of the first two Silicon Prairie Social mixers and connecting with high-quality professional contacts, we wanted to contribute to the event and the local tech community
Lisle, Ill. (Vocus) June 13, 2008
The Silicon Prairie Social has quickly become a premier networking event for suburban Chicago technology entrepreneurs and vendors, and Delivered Innovation is excited to be a sponsor of the mixer's third installment.
Held in west suburban Lisle, the first two Silicon Prairie Social events have drawn hundreds of technology professionals from top companies around the Chicago area, and the buzz for Silicon Prairie Social 3 is already growing. Delivered Innovation will have a presence at the event to showcase Software-as-Service (Saas) applications developed and delivered on the Coghead platform.
"After experiencing the energy of the first two Silicon Prairie Social mixers and connecting with high-quality professional contacts, we wanted to contribute to the event and the local tech community," says Michael Topalovich, president of Delivered Innovation. "We look forward to the great conversations and the opportunity to demonstrate some of our featured applications that we've been building on Coghead."
Members of the Delivered Innovation team will be on hand at the event to discuss opportunities for businesses and individuals to quickly turn innovative ideas and intellectual property into http://www.deliveredinnovation.com/web-application-development-and-delivery/your-idea...delivered.html [revenue-generating SaaS applications] using the Coghead web-based application development and delivery system. The Marketing Lucidity Lead Model will be demonstrated throughout the evening to give attendees the opportunity to see for themselves how Coghead provides a powerful new way to monetize unique business processes and methods.
Arthur Zards, president of Silicon Prairie Social 3 host sponsor XNet, welcomes Delivered Innovation as an event sponsor. "We're excited to have Delivered Innovation on board as a sponsor for our third Silicon Prairie Social. As a new company that fits our high-level technology and business audience, we know they will see tremendous benefit from the exposure and we are looking forward to watching them grow."
Silicon Prairie Social 3 will take place on Thursday, July 10, from 6:30-10:00PM at Mullen's Bar and Grill, 3080 Warrenville Road in Lisle, Illinois. RSVP online at http://silicon-prairie-social-3.eventbrite.com.
About Delivered Innovation:
Delivered Innovation designs and develops on-demand business applications using the Coghead platform. In addition to working with corporate clients who want to automate business processes or extend the functionality of existing systems, the company also specializes in helping entrepreneurs and businesses with unique ideas, processes, or methods monetize intellectual property by creating and selling Software-as-a-Service (SaaS) applications on the Coghead platform. For more information, visit http://www.deliveredinnovation.com.
About Silicon Prairie Social 3L:
The upcoming Silicon Prairie Social is Lisle-based XNet's third suburban technology mixer. The event is the ideal opportunity for professionals to connect in an informal setting with like-minded people in technology. Silicon Prairie Social is specifically for upwardly mobile tech professionals, executives, entrepreneurs, technology service providers, Internet professionals, Web 2.0 and startup companies, and the mobile industry. For more information, visit http://www.siliconprairiesocial.com.
###