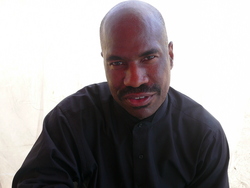 As a voice over artist, if people are asking you to do stuff you are very fortunate
Hollywood, CA (PRWEB) June 14, 2008
A California voice over actor is trying to find himself.
Roy O'Dell Gray, Sr. is conducting a search for someone who reads ad copy just like Roy O'Dell Gray, Sr.
"As a voice over artist, if people are asking you to do stuff you are very fortunate," said Gray, adding, "The proverbial fork-in-the-road tends to appear when you add to the picture a brilliant assistant like Kathy Hanson, who not only efficiently pursues, schedules and negotiates projects, but also turns around and makes you the voice of celebrity plastic surgery in both Hollywood and New York and is well on her way to securing you contracts with other prestigious doctors in different cities around the world."
Gray says Hanson, who was recently hired by Jingle Singer Karen Marie, has created an innovative voice over concept that may soon be implemented by Gray, if no conflicts of interest are perceived.
"So, since my primary goal right now is to find a way to do great things for each client, I need to be able to say to the Hollywood movers and shakers who reach out to Kathy through great references like Dr. Karamanoukian, who has offered me the privilege of calling him Raffy, 'You know what, I'm going to be tied up Friday, but here's a demo of Joe-Smo...If you agree that Smo here does a decent Roy Gray, then use Smo on this one and I'll take the next one'," Gray said, pointing out that broadcast-quality demos from Roy Gray sound-alike voice over artists should be submitted via email and will be evaluated by Hanson.
Gray encourages prospects to first visit http://www.JazzJoyandRoy.com.
###