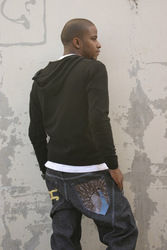 Most selvedge are indigo in color
Beverly Hills, CA (PRWEB) June 24, 2008

Beverly Hills is home to fashion heavyweights of all kinds. From Chanel to Prada, to Dior and Ralph Lauren every great fashion designer has a presence here. Therefore it's no wonder that the world's most ambitious denim line Blue Art has its roots in Beverly Hills.
BeverlyHillsPeople.com has discovered Blue Art, a brand new denim line that's taking no prisoners. Based in Beverly Hills the jeans are made from only the best fabrics that could possibly be found on planet earth. Rare Japanese "kaihara" and Italian "candiani" are so hard to come by that Blue Art is only able to produce each style by few hundred pairs.
Blue Art appears to have genuine uniqueness when it comes to choosing their fabrics and styles. Their signature piece "The Big Ego", a pair of jeans with a beautiful peacock bird on the pocket is made from Japanese selvedge denim from Ginza that's an extremely expensive fabric and very rarely can be found in Blue Art chosen color - charcoal grey. "Most selvedge are indigo in color" explains Blue Art designer and entrepreneur Femi Samuel, "These jeans are very difficult to make and we are only going to make 999 limited edition pieces at $495 retail". Quite modest considering that Evisu limited edition retails for over $2000. "Since we haven't shipped to stores yet, you can get on the waiting list through our website" Samuel added, "It's the new Hermes Birkin for men".
Denim isn't the only thing Blue Art is making. The line also carries beautiful casuals like shirts, leather jackets, creative shirts and t-shirts, knitwear and more. Their denim is manufactured in Los Angeles and the rest of the line in Italy. Some of the fabrics used are high-end Japanese "kaihara" and Italian "candiani" denim, as well as Italian cotton, linen, wool and calf leather.
Blue Art was created for people who refuse to wear anything ordinary. It consists of innovative and intricate washes, and progressive designs that offer ultimate comfort. When I had a chance to review the line I could tell anyone with good taste and need for quality would be able to appreciate these designs.
This line is the definitive affordable luxury that doesn't cut any corners, rather continuously promises to bring you designs made with utmost quality and care. Blue Art designs are classic and innovative, as well as in step with current trends. The denim is raw and trendy, enabling the wearer to pull off a sharp current look with a relaxed European edge. Some of the pieces include intricate art work that looks very unique and confident.
Next step for Femi and Co. elaborate women's "Pearl" collection promising consistency of cutting-edge styles, comfort, quality and sex appeal at competitive prices.
Watch out True Religion, Diesel, Rock and Republic, Robins Jean, there's a new kid on the block.
Blue Art Jeans is taking the art of denim to a whole new level. Visit http://www.BeverlyHillsPeople.com or http://www.blueartjeans.com for more info.
By Sofia Shershunovich
###